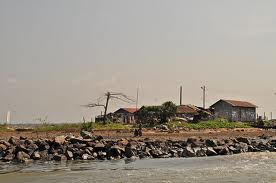 29 July 2014, Warri – Youths in the oil-rich Ugborodo community in Warri South-West Local Government Area of Delta State have destroyed the Ode-Ugborodo (Aruton) – home of Isaac Botosan, Vice Chairman of the Thomas Ereyitomi-led Community Trust and member, Ugborodo Interface Committee on the proposed $16 billion Federal Government Export Processing, EPZ, in the area.
Confirming the incident, Botosan said the attack took place on Sunday, a day after the Aruton youths denied men of the Nigerian Navy entry to resettle indigenes displaced by the violence that tore the community apart in January.
As at yesterday, the crisis was said to have spilled over to Warri and environs as factional youths moved against opposition leaders, resulting in the destruction of the home of Ofe Pender, Aruton Youth Leader's residence in Egbokodo, a Warri South community in what is believed to be a backlash of Sunday's violence in Aruton.
Botosan said: "On Saturday, I was among leaders who accompanied the Navy to return displaced persons home. And you are aware they refused men of the Nigerian Navy Ship, NNS, Delta to carry out that mission.
"They did same first at Ajudaibo. They had their way and I never had any problem with anyone.
"I am at a loss as to why what happened on Saturday would provoke the destruction of the house I built for my mother in Aruton. These violent elements partially destroyed that house back in January.
"They completed the destruction Sunday and proceeded to destroy my grandfather's house and that of Julius Atete, Ugborodo Youth National Chairman."
Femi Uwawah, an executive member of Tonwe-led Commu-nity Trust faction confirmed that Ojogor Tuoyo, another member of the EPZ Committee, also of the David Tonwe camp had to vacate his house along with his family for fear of being attacked in Egbokodo.
– Vanguard