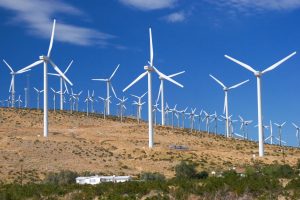 30 August 2018, NewsWires — Norway's Equinor is focusing its green efforts on offshore wind, a goal it is already on its way to achieve, but some investors are concerned about the impact this shift will have on the company's bottom line.
European oil and gas companies are diversifying their portfolio to include less-emitting sources of energy as a result of the Paris 2015 agreement, which outlines a shift from fossil fuels this century.
Equinor, formerly Statoil, is betting on offshore wind, leveraging its expertise in operating offshore platforms and its ability to scale up small projects into industrial ones.
Last year Equinor opened the first floating offshore wind farm, off Scotland. And on Tuesday it said it was planning to use floating wind turbines to power offshore oil installations, in a world first.
"I think the floating concept is very fascinating. We have a leading position there right now," Equinor CEO Eldar Saetre told Reuters.
Equinor also plans to build three large, bottom-fixed wind projects off the coasts of the United States, Poland and Britain.
The three projects alone could cost around $11.7 billion to build at current prices, which already fulfils the announced budget of 100 billion crowns, or $11.8 billion, according to a Reuters estimate.
By comparison, Repsol has gone into operating hydropower plants, Total is developing solar power and owns a battery producer, while BP bought Britain's largest electric vehicle charging company.
"For Equinor, it's more important (to diversify) because it depends more on upstream, compared to its peers like Shell, Total or BP, which have larger downstream operations which will be less impacted by the energy transition," Rohan Murphy, an analyst at Allianz Global Investors, told Reuters.
Equinor has said it aims to dedicate up to 20 percent of its capital expenditure by 2030 to renewables. Saetre said the plan could amount to 100 billion Norwegian crowns for the period, roughly $12 billion.
"It could be more than 100 billion crowns, but it could be also less. It's not a fixed number," Saetre said.
Annual spending is likely to increase as 2030 approaches and more projects reach maturity, he added.
A spokeswoman said the company expected costs associated with offshore wind to fall in the future, allowing more to be built with the same money.
DOGGER BANK
Equinor has said it planned to spend between $500 million and $750 million on "new energy solutions" in 2017-2020, and $750 million to $1.5 billion in 2020-2025.
Equinor has also bought Danske Commodities, an electricity and gas trader, but sees offshore wind as its main growth area.
Executives told Reuters on Tuesday they planned to make the final investment decision on Britain's 3.6-gigawatt-capacity Dogger Bank project in the North Sea by May 2019, and intended to take part in an auction to supply offshore wind power to the state of New York later this year.
It is also opening an office in Japan to position for potential offshore wind tenders there.
It aims to reduce the production cost of floating wind power to 40-60 euros per megawatt hour (MWh) by 2030, making it competitive with other sources of energy, from around 200 euros per MWh at its Scottish project by scaling up and simplifying the technology.
FROM STATOIL TO EQUINOR
Equinor's green shift came soon after Saetre took the helm of Statoil in 2015 following the departure of Helge Lund to lead BG.
One of Saetre's first decisions was to establish a separate business segment to drive investments in renewable and low-carbon technologies.
Two years later, he pushed for Statoil to be renamed Equinor to reflect its commitment toward becoming a "broad energy" company. Some in Norway protested, shocked that a national champion established for 46 years would drop its name.
"The energy transition in the oil industry is probably the hottest topic now," WoodMackenzie research director Valentina Kretzschmar told Reuters.
But some investors are concerned, particularly those on the sell-side, who demand maximum returns on a quarterly basis, she said.
"The jury is still out whether it is the right thing for oil majors to invest in renewables at all," she said.
"There is no question that renewables and electric cars (fleet) will continue to grow. Whether oil and gas companies are right to invest is an open question."
There is also caution among buy-side, longer-term investors, keener for oil companies to grapple with the energy transition.
"We don't want them to go and just greenwash things … They have to make things work and show that they are worthy of the capital," said Murphy at Allianz Global Investors.
Saetre is convinced this is the way forward.
"Some people say we should stick to producing oil and gas, but I have realized that at some point the energy transition will have an impact on that. You can get to a point where oil and gas starts to shrink," he said.