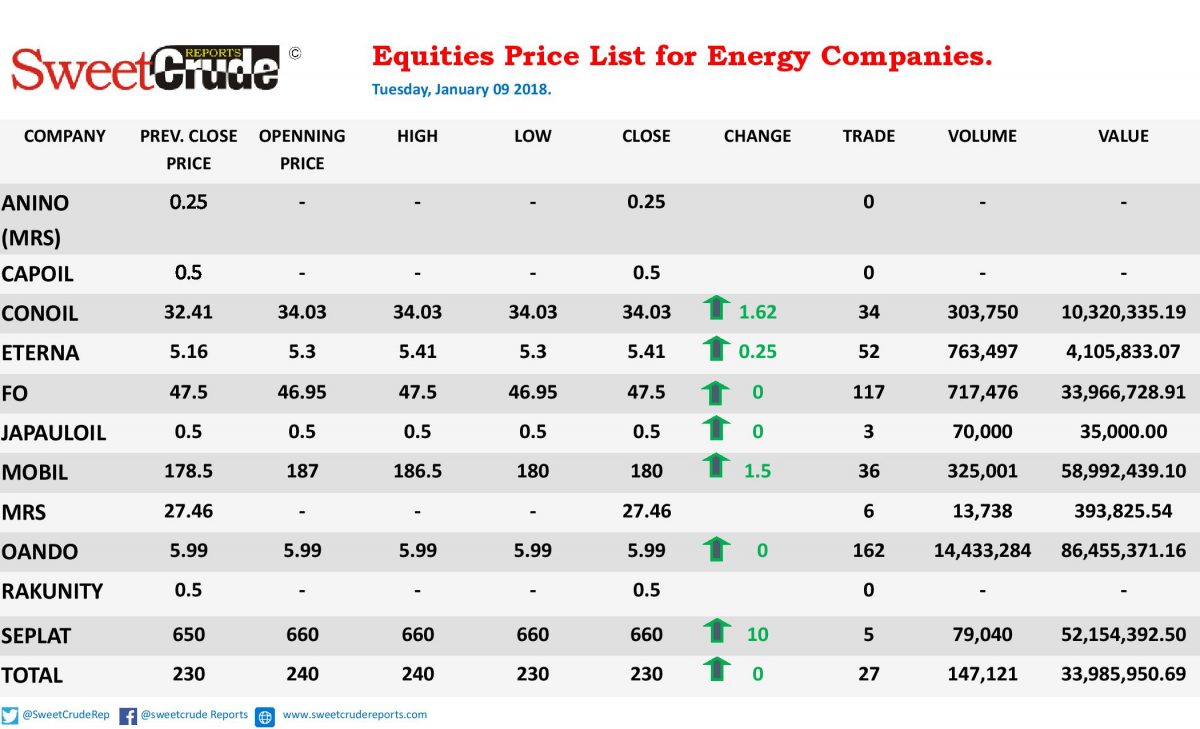 09 January 2018, Sweetcrude, Lagos – Trading activities on the floor of Nigerian Stock Exchange for energy companies on Tuesday January 9, 2017 ended on a positive note.
Top Gainers 
Seplat topped the list in this category with an increase of 10 percent, 79,040 volume valued at N52,154,392.50.
Conoil went up by 1.62 percent, 303,750 volume valued at N10,320,335.19.
Mobil trialed Conoil, going up 1.5 percent, 325.001 volume valued at N58,992,439.10.
Eterna went up by 0.25 percent, 763,497 volume valued at N4,105,833.07.
Forte Oil remained unchanged with 717,476 volume valued at N33,966,728.91.
Total also remained unchanged with 147,121 volume valued at N33,985,950.69.
Also, Japaul Oil remained unchanged with 70,000 volume valued at N35,000.00
Oando percentage increase remained unchanged with 14,433,284 volume valued at N86,455,371.16.
Most Traded 
Oando retained its top spot as Most Traded energy company with 162 deals, followed by Forte Oil with 117 deals. Others are:
Eterna – 52 deals
Mobil – 36 deals
Conoil – 34 deals
Total – 27 deals
MRS – 6 deals
Seplat – 5 deals
Japaul Oil – 3 deals