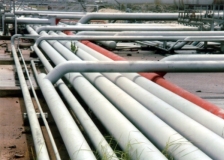 03 September 2013, Ex-militant leaders under the aegis of Phase II Generals have called for the removal of the Managing Director of the Pipelines and Products Marketing Company, PPMC, Prince Haruna Momoh, on grounds of inefficiency and for working contrary to President Jonathan's transformation agenda in the petroleum sector.
The ex-militant 'Generals' in a statement by its leader "General' Okunbiri J., a.k.a. Forest Dog, said that the call became necessary as PPMC, a subsidiary of Nigerian National Petroleum Corporation, NNPC, under the management of Haruna Momoh, has derailed from its mandate, thereby, shortchanging Nigerians of regular and adequate supply of petroleum products across the country.
He attributed his inefficiency to what he described as "undeserved promotion in PPMC," which did not follow due process in line with civil service rules, describing the PPMC MD as an enemy of the petroleum sector.
He added that his removal would definitely pave way for a better and efficient PPMC.
Okunbiri maintained that there was need for a change of the management of PPMC to achieve the transformation agenda in the petroleum sector, which is key to the rapid development of all sectors of the country's economy.
– Vanguard