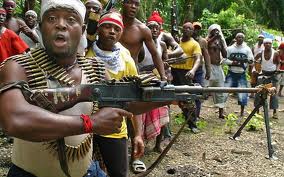 27 February 2013, Yenagoa — No fewer than 10 vehicles, were, yesterday, vandalized, while one, was set ablaze in Yenagoa, Bayelsa State, as hundreds of ex-militants protested alleged meagre slots allotted the state.
Also, some shops on Otiotio Road, in Yenezue-Gene, a suburb of Yenagoa, were, allegedly looted by the protesters.
The incident, which occurred between 11 am and 12noon caused gridlock on the Mbiama-Yenagoa Road, as motorists were forced to make a detour to avoid running into the irate youths.
However, the intervention of men of Joint Task Force, code named Operation Pulo Shield, anti-riot policemen, Operation Doo Akpor, operatives of Department of State Security, DSS and Nigerian Security and Civil Defence Corps, brought the situation under control.
WAt the scene of the incident, the charred remains of a Toyota Camry was seen and smashed windscreen of cars and broken bottles littered Otiotio and Erepa roads.
Trouble, it was learnt, started in the area when news filtered to the ex-militants that the Inter-Agency Task Force, IATF, set up by the Federal Government to carry out the verification and reconciliation of disarmament records, had allegedly resolved that 15 guns submitted by a camp will be entitled to one amnesty slot.
The protesters described the slot allocated to them as meagre and inhuman, a development, which stalled the commencement of the documentation, verification and authentification of genuine ex- militants in the state.
Staff of IATF, to carry out the verification and reconciliation of disarmament records, were already on ground at the Sector 2 headquarters of JTF, to commence the biometric exercise with a view to opening bank accounts in the names of the genuine ex militants to prevent issue of impersonation, when violence erupted.
*Sam Oyadongha