23 April 2015, Lagos – Exploration activity in Nigeria's oil and gas industry, which has been affected by regulatory uncertainty and insecurity in recent times, is further being driven down by the lingering decline in global crude oil prices.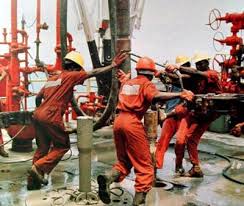 Last week, the Organisation of Petroleum Exporting Countries, in its latest monthly oil report, revealed that Nigeria saw the second-largest drop in rig count after Venezuela in March, citing data from Baker Hughes Incorporated and OPEC's estimates.
Rig count, which is largely a reflection of the level of exploration, development and production activities occurring in the oil and gas sector, dropped to 32 in Nigeria last month from 36 in February and 38 in January.
With the fall in prices still taking a huge toll on companies' earnings, industry analysts said exploration business, which involves huge capital expenditure, would be affected by the low oil prices.
According to the Head of Energy Research, Ecobank Capital, Nigeria has lost over $100bn worth of investment in exploration and appraisal spending in the last seven years due to the non-passage of the Petroleum Industry Bill.
"This represents funds that would have been spent on exploration mostly offshore where there is strong potential, judging by discoveries that have been made by our neighbours from Equatorial Guinea to Sierra Leone.
"The lack of exploration and appraisals has impacted on Nigeria's ability to increase oil production and even look at other pressing issues such as securing long-term contracts for its oil cargoes.
Oni stated that Nigeria's oil production had failed to rise above the 2 million barrels per day level since 2005 (annual average that is), even though other issues such as oil theft, maturity of old fields and difficulties in renewing licences remained part of the issue.
Nigeria has the second largest amount of proven crude oil reserves in Africa, but reserve estimates have been stagnant as exploration activities have been low, the United States' Energy Information Administration noted in its 'Nigeria Brief'.
The Vice-President and Head of Energy and Natural Resources, FBN Capital Limited, Rolake Akinkugbe, in her discussion of the short- and medium-term outlook of West Africa's offshore oil and gas industry on The Oil and Gas Year, said while foreign independents and juniors had largely driven frontier exploration in the region since the mid-2000s, International Oil Companies such as Shell, ExxonMobil and Chevron Nigeria remained somewhat isolated from this trend.
She said the IOCs had led exploration in established producing nations, such as Nigeria, and their more diversified footprints and limited requirement for external funding had helped them weather commodity cycles much better, while smaller independents have less to leverage and therefore are more vulnerable.
"Still, in recent years, these IOCs have gradually shifted their focus to more complex terrains, as seen through onshore divestment in Nigeria, where interests are now being consolidated offshore.
"Assets that were purchased during the industry's upswing will be most heavily impacted by low oil prices. For Nigerian companies that have taken on significant debt at heavy interest rates, parcelling out more equity than envisioned may be necessary to stay afloat. This is particularly relevant for non-producing marginal field operators that have licences on the cusp of being revoked," Akinkugbe said.
She noted that while 30 fields were licensed in 2003, less than 10 had gone on to produce as of 2015.
She said, "Some of these will need to de-risk completely and optimise production where possible. Attention will also be directed at improving corporate governance and transparency, in order to attract investors, even as they take advantage of local content opportunities."
She noted that in the years leading to 2015, there had been a surge in activity and enthusiasm in the potential of offshore oil and gas reserves in West Africa and the Gulf of Guinea.
"In 2015, there will be changing levels of activity in the short and medium term as low oil prices and market cycles exert pressure on companies. However, depending on the size and scope of a company and the health of its income statement and balance sheet, the impact on oil prices will be varied and in some cases may be a blessing in disguise."
She said the downturn in oil prices would not lead to a halt in exploration, but that companies would be more selective in deciding which assets to pursue.
"Once discoveries have been made, the threshold profit margin for meeting investment approval, which can be impacted by investment cost, asset scope and reservoir characteristics, will probably rise as a result of low oil prices, as per unit revenues will be lower," Akinkugbe said.
A petroleum economist and Chief Executive Officer, Jalz Energy Limited, Lois Machunga, had at an industry event last month observed that exploration and production would be affected as companies had been forced to announce cuts in capital spending amid the fall in oil prices.
– Punch