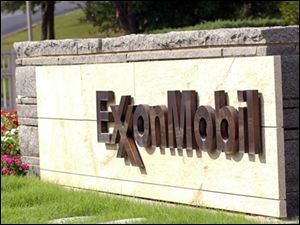 OpeOluwani Akintayo
with Agency report
03 February 2018, Sweetcrude, Lagos — International oil major, Exxon Mobil's shares fell by 3 percent at $86.40 in premarket trading on Friday.
According to a newly released quarterly report, the company reported adjusted quarterly profits although the oil giant posted its strongest annual earnings since 2014.
Its fourth-quarter earnings pegged at 88 cents per share, excluding the impacts of U.S. tax reform and impairments.
Analysts at CNBC had expected earnings of $1.04 per share.
"The impact of tax reform on our earnings reflects the magnitude of our historic investment in the U.S. and strengthens our commitment to further grow our business here," Chairman and CEO, Exxon Mobil, Darren Woods said in a statement.
"We're planning to invest over $50 billion in the U.S. over the next five years to increase production of profitable volumes and enhance our integrated portfolio, which is supported by the improved business climate created by tax reform."
The company saw corporate and financing expenses rise by $3 billion, mostly due to "unfavourable impacts" of $2.1 billion from U.S. tax reform.
Exxon's revenues pegged at $66.52 billion, also missing estimates for $74.31 billion in sales.
In 2016, Exxon earned 90 cents per share, excluding a $2 billion charge, on $61.02 billion in revenues.
For the full year, Exxon reported profits of $19.71 billion, its highest annual earnings since the start of an oil price slide in 2014, when it earned $32.52 billion.
Cash flow from operations which is a key pointer to financial health in the oil industry, stood at $7.4 billion for the quarter, matching that of 2016.
Earnings from Exxon's upstream segment, which explores for and produces oil and natural gas, rose $9 billion from a year earlier, while production of fossil fuels was down about 130,000 barrels a day during the period.
Fourth-quarter profits in Exxon's downstream sector, which is focused on refining crude oil into fuels like gasoline, also rose $323 million from a year earlier.
Chemicals business earned $1.3 billion, up $398 million from a year earlier.
Exxon Mobil on Wednesday announced it would leave its quarterly dividend unchanged at 77 cents per share.
The company's shares were down 2 percent around July last year.
The oil major had earned $3.4 billion, or 78 cents a share in the second quarter 2017, compared with $1.7 billion, or 41 cents a share in 2016.
Exxon had posted $62.9 billion in revenue, up 9 percent from $57.7 billion for 2016.
Analysts had expected Exxon to report earnings of 84 cents a share on $61.9 billion in revenue.
Spending on capital expenditures and exploration fell 24 percent to $3.9 billion in 2017, declaring a 77-cent quarterly dividend in July, unchanged from the prior quarter.