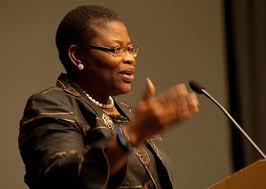 Clifford Ndujihe
28 january 2013, Sweetcrude, Abuja – Former Minister of Education, Dr. Obiageli Ezekwesili has challenged officials of the Federal Government to a public debate following the government's rebuttal to her comments alleging that the governments of Presidents Umaru Musa Yar'Adua and Goodluck Jonathan, squandered $67 billion (about N10.6trn) in foreign reserves.
Minister of Information, Mr Labaran Maku who addressed a press conference in Abuja on Sunday described Ezekwesili's allegation as "outlandish and clearly fictitious."
Maku also said the damning verdict passed on the education sector by Mrs Ezekwesili was a self-indictment, as she presided over the sector for 10 months without making any positive impact on it.
Countering Maku, the former minister, Mrs Ezekwesili said, "I Challenge them to a public debate of facts regarding 2007 Excess Crude Account (ECA) and foreign reserve and last five and half years oil revenue".
Also writing on twitter on Sunday in messages prefaced with the declaration, "Nothing but Accountability", Ezekwesili said: "In 2007, the incoming Administration was handed $45Billion in Foreign Reserve plus $22Billion. Nothing but accountability: Let Mr. Maku go further. As a citizen all I want to know is the Mathematics of the ECA and the Foreign Reserve. Nothing but accountability: I demanded accountability and that's all a citizen asks of government. I will not stop asking for accountability."