Oscarline Onwuemenyi
13 April 2016, Sweetcrude, Abuja – In the wake of complaints over hike electricity bills charged consumers, the Minister of Power, Works and Housing, Mr. Babatunde Fashola has charged the Nigerian Electricity Regulatory Commission (NERC) to balance the concern of all stakeholders and consumers and come up with a tariff that is fair.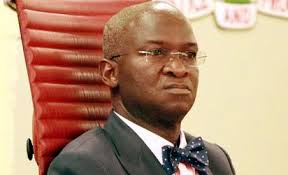 Speaking at the fourth monthly meeting of stakeholders in the power sector, at the Calabar Power Station in Odukpani local government area, the Minister regretted that the issue of tariff has become very contentious, adding that it is however within the purview of the regulatory agency.
He said, "It is the statutory and legal responsibility of NERC to balance all the concerns and come up with a tariff that is balanced. They attempted to do that in December. They listened to power stations like this. You can see what is here. The owners of this station need to earn money to pay for all these. It is the tariff that pays for it."
He added that, "NERC has to balance those requirements against the desire of all of us to pay as little as possible for electricity. The fact of the matter is that if we want electricity to improve, we have to habituate ourselves to pay what it cost.
"It is regrettable, but it is NERC's job to listen to everybody and balance everyone's concern and come up with a tariff that is fair. If anyone is not alright with this, there is a law that gives them the authority to petition NERC, that the tariff is not fair.
Fashola, who was represented by the Permanent Secretary in charge of Power at the Ministry, Mr Louis Edozien, noted that NERC is required by law to look at the complaint and balance it once more against the lines and power stations and explain how they arrived at what they arrived.
"If the complainant has a point they are authorized by the law that set them up to amend the tariff if it is believed they did not balance it properly," he noted.
A communiqué at the meeting acknowledged the need to improve on the responsiveness and awareness of the Distribution Companies' (DisCos') Customer Complaints Units (CCU), to ensure that all complaints from paying customers are acknowledged and resolved swiftly.
Further resolutions were made to publicize dedicated customer complaints lines in four national newspapers by each DisCo in order to support this objective in the next two weeks.
The meeting reiterated the need for more aggressive rollout of metering for all customers. In this regard, Eko, Kano, Kaduna and Jos Discos confirmed plans to aggressively deploy recently procured metering starting in May 2016. Abuja Disco assured the meeting that it plans to meter 100,000 households by the end of the year, and Port Harcourt Disco intends to install 110,000 by the end of the year.
It read in part, "The meeting resolved that Port Harcourt Disco and Calabar and Ibom Power Plants can proceed with their bilaterally negotiated agreement to supply currently stranded power, starting with 150MW to 250 MW. Port Harcourt Disco will invest in infrastructure in Akwa Ibom and Cross River to receive the power and deliver it to customers at the approved tariff."
The meeting further acknowledged the shortage of gas, limiting power output from power stations connected to the ELPS pipeline, and supported ongoing discussions between the Minister of Power Works and Housing, and Ministry of Petroleum Resources to facilitate additions in gas supply and the repair of the Forcados Oil Export Line to ameliorate the gas shortage."