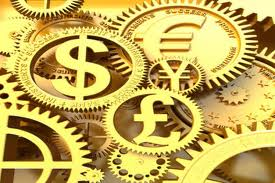 18 April 2012, Sweetcrude, Lagos – Local and international financial market update.
NIGERIA: The Minister of Finance and Co-ordinating Minister for the Economy, Ngozi Okonjo-Iweala raised concerns over Nigeria's rising borrowing profile, particularly the domestic debt stock which has surged to as high as N5.96 trillion. Okonjo- Iweala's concern underscores the intense pressure the country faces over rekindling economic growth and curbing its escalating budget deficit.
EUROPE: Treasuries fell for the first time in three days after Spain raised more than its maximum target at a bill auction and Germany's ZEW report showed investor confidence unexpectedly rose, damping demand for safer assets. Ten-year note yields climbed from the lowest level in six weeks before U.S. reports today that economists said will show home starts increased and industrial output expanded, adding to signs the recovery is gaining momentum. Treasuries have handed investors a loss of 0.1 percent this year, according to indexes compiled by Bloomberg and the European Federation of Financial Analysts Societies. The MSCI All-Country World Index (MXWD) of stocks returned 9.5 percent including reinvested dividends.
INDIA: India slashed its benchmark interest rate by a greater-than-forecast half a percentage point, seeking to bolster growth with the first reduction since 2009. Inflation might limit the room for further cuts. Governor Duvvuri Subbarao lowered the repurchase rate to 8 percent from 8.5 percent. The move stoked gains in the rupee and government bonds, and may buttress demand in an economy hampered by political gridlock that's restraining investment. Policy makers are seeking at the same time to contain inflation that remains the fastest among the BRIC nations.
Bonds – The monthly bond auction scheduled for today has been postponed to next week, market however did not react to the news as trade volumes continue to drop in the bond market, stable trend expected into the coming week.
Bills – The new 1yr t-bill issued last week was listed in the market yesterday, slim demand recorded on it as it closed 14bps lower than it's opening levels, trade volumes remain low this week as we do not expect to see high volumes this week until the next when there will be an auction.
Money Market – OBB and O/N rate flat at 14.00% and 14.50% respectively, tight liquidity condition persists in the money market as it funds for FX auction today.
FX
                          Hi             Low           Close         Prev.Close
USD/NGN  157.48/58   157.27/37   157.38/48   157.30/40
 NIBOR (%)                                          LIBOR (%)

O/N

14.7917

USD 1 month

0.2398

7 Day

15.2500

USD 2 month

0.3471

30 Day

15.7917

USD 3 month

0.4657

60 Day

16.1250

USD 4 month

0.5651

90 Day

16.4167

USD 6 month

0.7309

USD 12 month

1.0482

Y/Y Consumer Inflation February 2012 :

11.90%

FX Reserves: 17 April 2012 (USD bn)

36.142

MPR

12.00%

Source: FMD and CBN