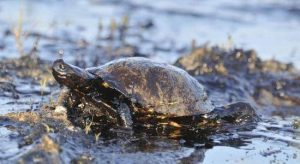 Mkpoikana Udoma
Port Harcourt — Fishermen under the auspices of FishNet Alliance in Okrika Local Government Area of Rivers State have raised the alarm over increasing toxic wastes in Okrika river, dumped by petrochemicals and oil firms in the area.
The fishermen particularly accused the Port Harcourt Refining Company and the Indorama-Eleme Petrochemicals Ltd of channeling their industrial wastes into the waterways.
A fisherman and member of FishNet Alliance in Okrika, Chief Fyneface Daka Anthony Agokabo, said that the presence of the oil companies around Okrika has brought nothing but pains and sorrow, due to negative impacts of the industries on aquatic lives.
Agokabo, said that even the fishes caught from the river are polluted, since the water itself was highly polluted from chemical and toxic wastes discharged by Port Harcourt refinery and Indorama petrochemicals.
He explained that although Okrika was not playing host to Indorama, however, since that the river is interconnected, hence whatever affects the creeks of Eleme runs down to the Okrika river.
"We are predominantly fishermen. We are all suffering from pollution arising from gas flaring. If you wash your clothes and spray outside, flames and soot will cover it over in few hours. Even the water is polluted, meaning that even the fishes we eat are polluted too.
"The refinery washes their wastes into the water and the smell is usually very strong. Even Indorama too, once they release these toxic wastes into the river, all the fishes in the river will die, while the smart fishes will move far away deep into the ocean. It will take us three waters (45days) before fingerlings will start finding their way into the river."
Similarly, the Executive Director Health of Mother Earth Foundation, Dr. Nnimmo Bassey, has cautioned the government respond to the needs of the citizens by protecting the environment from oil and gas pollution.
Bassey said it was unacceptable for the government to prioritized profits from oil and gas activities, over the lives and health of the citizens.
"The incoming government must respond to the needs of the people, protecting the environemt should be the number one responsibility of government because people depend on the environment for a living. People drink water from polluted streams and rivers, people are farming in polluted land, people are breathing polluted air. This is completely unacceptable."
When contacted, the Public Affairs Department of the Port Harcourt Refinning Company said all correspondence and enquiries should be directed to the parent company, NNPCL in Abuja.