20 April 2014, Lagos – Forte Oil Plc was among the companies that reported their results for the first quarter (Q1) ended March 31, 2015. The integrated energy solutions provider posted gross profit of N4.1 billion, compared with N4.1 billion in the corresponding period of 2014. Although the company strived to reduce costs in the areas of sales,, distributions and administration, finance charges rose by 37.5 per cent.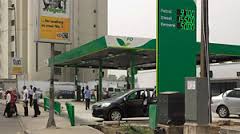 This affected the bottom line in Q1 as profit after tax fell from N1.1 billion to N784 million. However, market analysts said the performance of the company would improve significantly in the quarters ahead as the assets acquired with the banks borrowings begin to yield results.
Forte Oil last year successfully concluded its three-year business transformation that led to a complete turnaround of the company from a loss making entity of N19 billion in 2011 to a profit and a sustainable business entity. The company delivered an annual group profit of N1.1 billion in 2012, N6.5 billion in 2013 and N6.01 billions it in 2014.
The company paid  cash dividend of N250 per share and a bonus of one for five for the 2014 financial year, which where approved  by the shareholders last Wednesday at the 36th annual general meeting of company in Lagos.
Looking at the future of the company,  the Group Chief Executive Officer of Forte Oil, Mr. Akin Akinfemiwa, said the management was confident  the company is on the right path to becoming Nigeria's foremost integrated solutions provider with the unveiling of its five-year growth and consolidation strategy.
"Our quest to dominate the downstream petroleum sector in Nigeria and by extension Africa, remains a key aspect of our consolidation strategy. We are currently pursuing opportunities for mergers and acquisitions in a bid to drive volume, revenues and ultimately maximize profits for shareholders," he said.
According to him,  the organic growth of the company's downstream business through the acquisition of strategically positioned outlets to create an optimised network and drive revenues and profits remains on course.
"We remained committed to making our power business a key driver of our growth initiative by ensuring that it contributes 40 per cent  to our group profit before tax in the near future. To this end, we have contracted and commenced a major overhaul of our 414-megawatts Geregu Power Plant to Siemens AG,"Akinfemiwa said.
– This Day