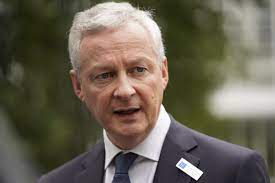 News wire — France's cap on electricity price hikes will stay in place beyond 2023 and likely be phased out over a two-year period, Finance Minister Bruno Le Maire said on Friday, arguing power prices haven't "normalised" yet.
"Electricity prices haven't returned to normal, so we will take a little more time to withdraw the price cap. I give us another two years until early 2025," Le Maire told broadcaster LCI in an interview.
European electricity prices soared last year, mainly driven by fallout from the war in Ukraine and record-low nuclear output in France, where state-owned utility EDF is rushing to fix reactors affected by stress corrosion.
Maintaining price caps beyond this year will further strain EDF's finances as the utility scrambles to hire and train enough staffers to build several new nuclear plants over the coming decades.
Le Maire, however, said the government will likely end similar household price caps for natural gas at the end of 2023, because gas prices have lowered significantly in recent months after spiking in the aftermath of Russia's invasion of Ukraine.
The government of President Emmanuel Macron has made it a priority to shield citizens from soaring bills amid high inflation rates across the eurozone while anger has mounted at home over a two-year rise of the legal retirement age.
In addition to a 15% price hike limitation on energy tariffs, the government has also pressured retailers to guarantee affordable food prices.