19 April 2016, Kaduna — A 24-year-old petrol black marketer of Yan Taba road, Ungwan Shanu in Kaduna has been shot dead by men of the Nigerian Police, Daily Trust learnt.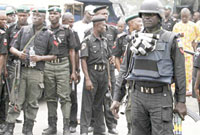 The man, identified as Ibrahim M. Ibrahim, aka Ibrahim Agro by a neighbour, was said to have been shot in the head on Thursday, around 2am in Mararraban Jos on the Kaduna-Zaria expressway.
Late Ibrahim's neighbour, Ibrahim Yahaya, said the deceased and two others in the same line of business went in search of petrol in a green Volkswagen golf car when they came across policemen.
He said, "Ibrahim, along with two of his friends left Ungwan Shanu where they reside for Mararraban Jos in search of petrol. On their way, they met with vigilante group known as 'Kato da Gora' who demanded money. They gave them N400 and passed. As they moved forward, they met with policemen who also asked for money and they gave N1000.
"They did not get the fuel, so on their way back, they met with some policemen. Thinking they were the same ones they had given money to earlier, they drove on. The police fired the first shot so the driver asked if he should stop but was convinced that the shot was fired to scare them. The police shot again and the last shot went through the car and hit late Ibrahim in the head."
The spokesperson of the Kaduna State Police Command, DSP Zubairu Abubakar had not responded to several calls to his phone before the time of filing this report yesterday.