25 May 2015, Abuja – There are indications that the ongoing scarcity of fuel in the country may have taken its toll on security patrols by the police in Lagos State.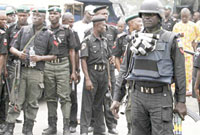 Our correspondents gathered that many police area commands and divisions had drastically reduced vehicle patrols in their area of jurisdictions, reserving the fuel they had in their vehicles for "special distress calls and emergencies."
A policeman attached to a division in the Lekki area of the state told one of our correspondents that despite the Divisional Police Officer's effort to get fuel by reaching out to fuel stations in the area, the division could not fill all their vehicles.
He said, "Policemen have been told to patrol the immediate surroundings of the station on foot. A vehicle was allowed to go out for patrol, while another one is in the station for distress calls and emergencies. It is that bad."
A DPO in the Agege area also said only one patrol vehicle was working, while three others were parked at the station.
"We have fuel in kegs. If we have any emergency, we can fill any of the parked vehicles with fuel and move to the scene. It is a measure to conserve the fuel. But a patrol van is working almost 24 hours round my jurisdiction; the earlier the scarcity ends, the better."
Another DPO in the Ipaja area said his officers had to push a patrol van back to the station when its fuel finished, adding, "We are just barely managing."
One of our correspondents learnt from a source in the Area C Command, Surulere, that police patrol vehicles were directed to Ijeshatedo area where they queued up for fuel without success on Sunday.
He said, "They have gone there for hours but have yet to return.
"Definitely, our patrols have reduced as a result of the fuel shortage."
A police source at the State Department of Criminal Investigation, Yaba, also told our correspondent that the scarcity was taking its toll on patrols.
He said, "If there is fuel, most filling stations will attend to us faster than others. We bought N200 per litre on Friday. Our patrol vans have reduced their operation as a means to conserve fuel."
A policeman attached to the Bariga Police Division told our correspondent that the station could no longer respond to distress calls.
He noted that apart from the Rapid Response Squad, which is attached to the Lagos State Government, almost every police station in the state was in trouble.
He said, "Recently, we received a distress call that there was shooting in an area, but we could not respond on time. It took us almost an hour to respond. The cost of transport has tripled and it is very difficult to work.
"We even fuel our vehicles by ourselves, but filling stations are now selling fuel between N200 and N250.
"We receive money for maintenance from the government every four months. If we buy fuel at high prices, who will pay us back?"
Another policeman attached to a highway patrol, said most of the unit's vehicles had been grounded since Friday.
He said, "We don't have much fuel, but we are managing what we have. We have some friends, who own filling stations, that assist us, but the price is the problem.
"Fortunately, there have not been robberies in recent times, so we are safe."
However, the Lagos State Police Public Relations Officer, DSP Kenneth Nwosu, said the command had put measures in place to ensure that the scarcity did not affect policing.
He said, "The command is proactive and we always foresee the rainy day. The Commissioner of Police is proactive in ensuring that nothing affects our primary responsibilities.
"I agree that in local police stations, there may be restrictions to police movements as a result of the scarcity. This is because we do not live on planet Mars; we are in the country. But our highway patrols have not been compromised and cannot as a result of the scarcity. We have provisions for all that."
– Punch