09 October 2014, Makurdi  –  There was gridlock in major parts of Makurdi the Benue State capital in the early hours of Thursday over the scarcity of fuel.
Our correspondent went round the major filling stations in the metropolis and discovered that only the Mega station along Aliede road was selling at the normal N97 pump price.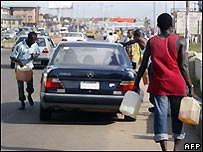 Even at the Mega station black marketers were given preference against motorist cueing to be attained to.
It was further observed that the black marketers are now selling at the rate of N170 and N180.
Other fuel stations however are pumping at the rate of N120 and N130 respectively while others are not even selling.
A motorist who identified himself as Bem lamented that he had been on the cue for hours and was not even given access to go inside let alone attained to.
He said, "Certainly, I have to be late to work despite been here for hours and not been allowed inside to be attained to which I am not happy."
The situation according to investigation is the same in the major town of Gboko, Kastina-Ala and Oturkpo local government areas.
A commuter, Toryima, alleged that government in connivance with major marketers are benefiting of the mass by allowing middle men and black marketers to hijacked fuel in the state.