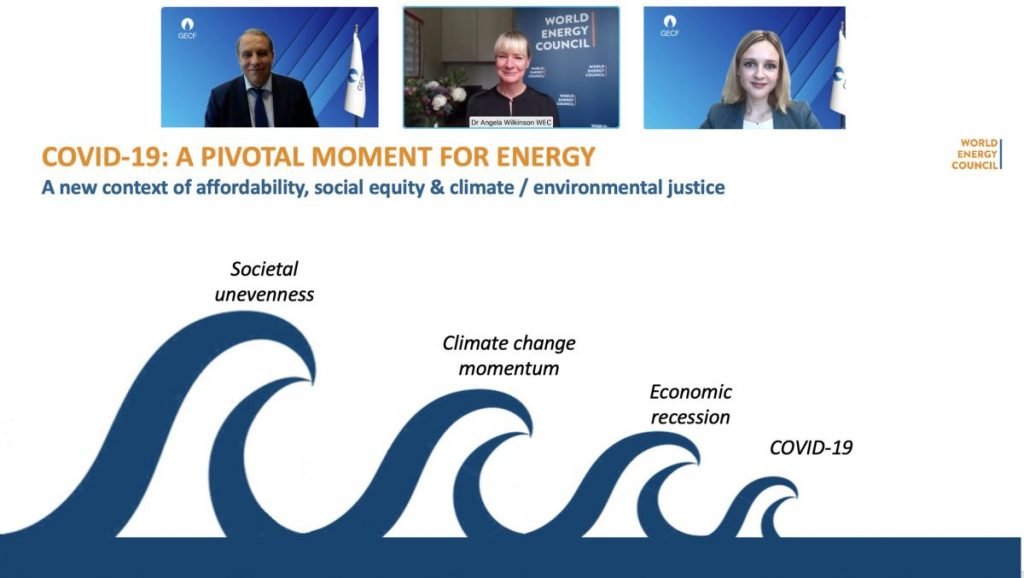 Doha, Qatar –- As the world continues to progress multiple energy transitions, the numerous top-down roadmaps on climate-related action require humanising, with more detail about their actual implementation, an influential voice on energy and sustainable development said.
Speaking at the 54th edition of the GECF Gas Lecture Series, entitled 'Humanising Energy', Dr Angela Wilkinson, Secretary General and CEO of World Energy Council (WEC), noted that renewables will need other energy "friends" and flexible storage solutions to be widely and readily available.
"There is an increasing proliferation of roadmaps, full of promises about accelerating technology and tipping points and yet empty of details on people, uses and behaviours," said Wilkinson, an experienced energy executive, a distinguished Oxford scholar, and a published author. "The Covid-19 crisis reminds us that the future of energy is a much bigger story than technology. The gaps between energy "haves" and "have nots" have grown wider in this crisis and this pattern is evident in all regions and countries."
She further stated that better energy solutions are not green, blue or any other colour and net zero or carbon positive solutions must meet the needs of the many, not only the wealthy few.
"That's why we see the need for capital markets to rethink and rebalance the 'S' in ESG reporting which is impacting investment flows to energy."
The GECF Secretary General emphasised how the Forum's 18 Member Countries are embracing change and developing new pathways for environmentally friendly energy inspired from the cleaner attributes of natural gas.
"We believe in accepting change, but we do believe in change that is meaningful and beneficial to the most number of people on this planet. Without a fair energy transition, the world risks leaving many communities behind," said Yury Sentyurin.
"A 'green future' can indeed be realised based on 'green barrels' and, more importantly, natural gas is the most suited to be a 'net positive' on the road to 'net zero'."
The World Energy Council is the world's oldest independent and impartial network of energy leaders and practitioners promoting an affordable, stable and environmentally sensitive energy system for the greatest benefit of all.
Formed in 1923, the Council is the premier global energy body, representing the entire energy spectrum, with over 3,000 member organisations in over 90 countries, drawn from governments, private and state corporations, academia, NGOs and energy stakeholders.
In her remarks, guided by WEC's philosophy of remaining a neutral advocate of energy – all responsible forms of energy – for the greatest number of people, Wilkinson drew parallels between the nearly 100-year-old organisation and the GECF.
"The World Energy Council and the Gas Exporting Countries Forum have always been friends. Like all good friends, it is important to be able to discuss areas for improvement and to celebrate achievements together," said Wilkinson, whose earliest work as a young physicist was to calculate how gas flaring and pipeline leakage reduced the environmental benefits in switching from coal to gas.
"Molecules, as well as electrons, will play a key role in the future of energy. Natural gas – in various forms – has an important role to play as a transition bridge to the climate neutral energy future. Renewables will need other energy friends and mobile and flexible storage solutions to get to scale."
According to her, WEC's one-hundred-year heritage in managing energy for peace and prosperity is unique – and the foundation for convening and cultivating the practical know-how and best practices needed in today's era of energy transitions and transformations for people and planet.
In response, the Forum's head highlighted that the GECF believes in the right of countries, particularly the developing economies, to have access to abundant, affordable and clean source of energy.
"We don't condone restriction of energy policies and directing investment resources towards expensive decarbonisation options and technologies, some of which are yet to be proven. This can substantially affect the security of supply and prevent countries from accessing competitive and clean energy sources, such as natural gas, which is compatible with sustainable development," he said.
Citing figures from the latest iteration of the GECF Global Gas Outlook 2050, Sentyurin asserted that fossil fuels are projected to remain dominant, accounting for 71% in 2050 while natural gas will become the leading source of energy in the world's primary energy mix, growing from 23% today to 28%.
The two speakers also underscored the importance of cooperation and extended support to each others' missions where in alignment. In her presentation, Wilkinson further laid stress on the importance of the upcoming 25th World Energy Congress, organised by the Council, in St Petersburg in 2022 which will take place in the backdrop of a world on an expected recovery and coincide with the centenary celebrations of the World Energy Council.
Gas Exporting Countries Forum
Gas Exporting Countries Forum (GECF) is an international governmental organisation currently comprising of 18 Member Countries – Algeria, Bolivia, Egypt, Equatorial Guinea, Iran, Libya, Nigeria, Qatar, Russia, Trinidad and Tobago, Venezuela, Angola, Azerbaijan, Iraq, Malaysia, Norway, Peru, and the United Arab Emirates, which together represent 70% of the proven gas reserves, 44% of its marketed production, 52% of pipeline, and 51% of LNG exports across the globe. It is headquartered in Doha, Qatar.
Being a foremost energy association, officially established in 2008, the GECF has recorded notable milestones in its evolution and remains committed to supporting its Member Countries in the pursuit of global energy security and meeting the world's growing energy demand, while proving to be reliable suppliers of natural gas – a prominent contributor in the global pursuit towards net-zero emissions energy systems and attainment of the 2030 Sustainable Development Goals.
The Forum provides granular, scientifically-driven insights into the state of natural gas based on a diverse variety of instruments and deliverables, such as the Gas Research Institute, the Global Gas Model – now with elements of artificial intelligence and digital technologies, Global Gas Outlook 2050, Annual Short-Term Gas Market Report, Monthly Gas Market Report, Special Envoys on Data and Statistics, Data Exchange Mechanism, the Short-, Medium-, and Long-Term Gas Market Reviews, and Monthly, Quarterly, and Annual Statistical Bulletins.
GECF increasingly engages with UN subsidiaries UNFCCC, UNECE, UNESCO, as well as G20, ASEAN, BRICS, EEC, OPEC, OAPEC, APPO, IEF, IEA, IRENA, OLADE, IGU, other peers and regional entities, and maintains strategic multifaceted dialogue amongst natural gas producers and consumers. www.gecf.org
The World Energy Council
The World Energy Council is the world's only technologically neutral and truly global member-based energy network. Comprised of over 3,000 member organisations in nearly 90 countries, the Council has been at the heart of global, regional and national energy debates for nearly a century, developing new thinking and driving effective cooperative action around the world to achieve the benefits of better energy for all. The Council's global convening power and whole system expertise help to shape a global energy leadership agenda and promote effective cooperation between diverse interests and needs, as well as to drive practical action to scalable impact.