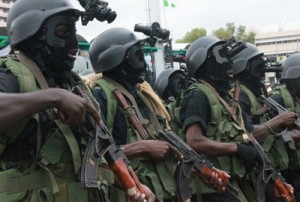 Emma Arubi
07 March 2013, WARRI – THE General Officer Commanding, GOC, 2 Mechanised Brigade with Headquarters at Ibadan, Maj. Gen Ahmed T. Jubrin has cautioned officers and soldiers of the 3 Battalion Barrack, Effurun, Delta State, to desist from interference in family land feud and other communal matters in their area of operation.
The GOC who stated that such intrusion into community matters may consume them, told the officers and men to be proud of their profession always and strive to maintain a very high standard of discipline at all times, saying that they provide very crucial service to the nation by way of saving lives and guarding our oil pipelines and facilities from economic saboteurs and thereby contributing their own quota to national economic growth and the deepening of democratic values.
He made these remarks at the 3 Battalion Barrack, Effurun, during his familiarisation visit where he was received by the Commander, Lt. Col. Ikechukwu Otu after inspecting a guard of honour mounted for him.
"I will like to remind you that you have no business or issues to do with civilians. If they are having their land problem or family feud, it is not your business to solve it. Don't get yourself involved. Mind your immediate family problems and barrack environment. So do not go and put your hand in an issue that would consume you," he warned
He cautioned the soldiers to always remember to be upright, smart looking in their uniforms and know that with the uniform on them they are representing the Chief of Army Staff and take good care of their health, adding that in all assignment they undertake, self preservation should be their watchword while executing their operation so that they can be alive to serve another day.
Maj.Gen A T. Jubrin said the challenges of accommodation, water supply, uniforms and so on facing them has always been there and stated that the military high command is currently fashioning ways out to resolving them but charged them to imbibe the culture of maintenance so that the little facilities currently being enjoyed endures.
"As soldiers you must be brave and not exhibit any act of cowardice in the course of your operations. You must preserve yourself and do your job professionally so that you live to fight another day. You must remember that whatever you do anywhere is a reflection of the training and professional ethics of our noble career," he admonished.