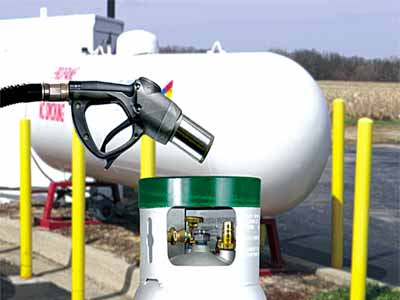 OpeOluwani Akintayo
Lagos — Market survey by SweetcrudeReports as of Thursday and Friday showed that gas prices per truck jumped further just few hours after the Nigeria LNG Limited, NLNG announced supply of its 100 percent gas production into the market.
Survey showed that a truck load of cooking gas was sold for N10 million on Friday.
A truck load of same product had sold for N9.5 million on Thursday.
The unexpected development comes just as downstream marketers have questioned NLNG's claim that it had approved the supply of 100% of the company's LPG production (Propane & Butane) to the Nigerian market.
In a chat over the weekend, Bassey Essien, Executive Secretary, the Nigerian Association of Liquefied Petroleum Gas Marketers, NALPGAM, told SweetcrudeReports that claim by the gas firm that it will "prioritise the domestic market for 100% of its Butane production, otherwise known as cooking gas" remains unclear, saying that it should state what its "100%" translates to in terms of market volume.
The NLNG had said it had supplied its first Propane cargo into the domestic market and had developed a scheme to sustainably supply Propane for usage in cooking gas blending as well as in agro-allied, autogas, power and petrochemical sectors of the Nigerian economy to further deepen gas utilisation in Nigeria.
Gas prices had skyrocketed over 100% last year, hiting N10, 200/12.5kg around November before crashing down to around N8500/12.5kg.
NLNG is currently the highest single supplier of LPG into the domestic market, with an estimated 400,000 metric tonnes supplied in 2021," Managing Director and Chief Executive Officer of NLNG, Dr. Philip Mshelbila said in the statement issued by Andy Odeh General Manager, External Relations & Sustainable Development.
"Committing 100% of our LPG supply is a major milestone in our journey of domestic gas supply. We supplied our first Butane (LPG) cargo into the domestic market in 2007, which helped to develop over the years the LPG industry in Nigeria from less than 50,000 tonnes to over 1 million tonnes market size annually by the end of 2020. In 2021, we increased our LPG supply commitment from 350,000 metric tonnes (or 28 million 12.5kg cylinders) to actual delivery of 400,000 metric tonnes (or 32 million 12.5kg cylinders) thereby directing most of our production into the domestic market. But this was not enough for NLNG, hence this commitment to do all that we possibly can and supply 100% of our LPG production to the domestic market," Dr. Mshelbila added.
However, Bassey argued that NLNG clarifying what it meant by "100%" would help explain certain nagging questions.
"Last year, a truckload of gas increased by between N400, 000-500, 000 every day. I told them price would N10, 000/12.5kg if nothing was done about it, and it happened", he said.
"Now, when they said 100 percent, what do they mean? What is the actual volume we are talking about here? Does it mean that Nigeria will no longer gas? Or that NLNG has stopped export? When the federal government says they are working on something; what is that thing they are working on?", he added.
The NLNG produces about 22 million metric tonnes of gas per year, according to findings.
Further findings revealed that the country had consumed 120 metric tonnes in December alone.
Spokesperson for NLNG, as at time of filing this report, was yet to respond to SweetcrudeReports questionnaire on further explanation on the firm's "100%" supply claim despite calls and text message exchanges.
SweetcrudeReports had early last week, reported how gas prices crashed from 10, 000/12.5kg to between N8400 and N8200. In some outlets, the price of the commodity dropped to between N7,800 and N8,000. N8500/12.5kg as the festive season approaches.
The price downward trend occurred following clamour from public regarding incessant increase in prices over the last one year.
Prices of cooking gas shot up from N3500 per 12.5kg in December 2020, to over N10, 000 per 12.5kg late last year.
The National Chairman, Liquefied Petroleum Gas Retailers Association of Nigeria, Michael Umudu, had confirmed the increase in supply by the NNPC and NLNG.
"Also, many LPG users stopped using the commodity at the time when the price kept increasing and this reduced demand pressure on cooking gas, hence causing a rise in its availability and then a gradual drop in price," Umudu stated.
Asked whether the Federal Government had removed the VAT on cooking gas imports, Umudu replied, "It (government) has not been enforcing the tax and has remained silent about it but has not said anything about removing it. This also has helped in price reduction."
Last month, the Group Managing Director of the Nigerian National Petroleum Company Limited, Mele Kyari, said the NNPC was increasing the supply of the LPG in a bid to force down its price.
Kyari said, "Two things are in play. One is the supply in the international market of gas. It moves with the price of every other petroleum product including crude oil and its derivatives.
"So definitely, it is a reflection of what is happening in the international market. However, what we are doing is to increase supply and once supply increases, price will come down."
The Federal Government on Thursday said it was putting measures in place to ensure further reduction in the cost of Liquefied Petroleum Gas, popularly called cooking gas.
Cooking gas price rose by more than 240 percent between January and October 2021.
As a result, some LPG users were forced to shift to charcoal or firewood.
The product had increased by 240 percent for 12.5kg, moving up from N3,000 to N10,200 within the first 10 months of 2021.
"It is in government's interest for the price to go down consistently and there are certain initiatives that are being taken at the moment, which hopefully will see to further drops in price regardless of the international cost," the Programme Manager, National LPG Expansion Implementation Plan, Office of the Vice President, Dayo Adeshina, stated.
About 65 percent of the LPG is imported into Nigeria, while domestic production accounts for 35 percent.
International pricing of the LPG as of January last year, was $250 per tonne.
It rose to $875 per tonne by the end of October and started dropping by the end of November into December, to around $500 per tonne at some point but went up again in December to $708 per tonne.
On the third of January this year, price had risen to $744 per tonne, according to findings.
NLNG is an incorporated Joint Venture owned by four Shareholders, namely, the Federal Government of Nigeria, represented by Nigerian National Petroleum Corporation (49%), Shell Gas B.V. (25.6%), TotalEnergies Gaz & Electricite Holdings (15%), and Eni International N.A. N. V. S.àr.l (10.4%).
Follow us on twitter