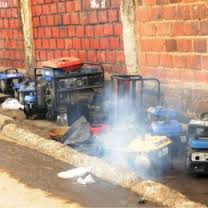 29 December 2016, Umuahia – The Abia State Police Command on Thursday confirmed the death of an environmental health officer in Aba South Local Government Area and his wife after inhaling generator fumes.
The Public Relations Officer of the command, Mr Nta Ogbonnaya, told the News Agency of Nigeria in Aba that the couple died in Bende, their local government area of origin where they had gone to observe the yuletide holidays.
Ogbonnaya said that police investigations revealed that the duo, Mr Prince McAnthony, and his wife, Oluchi, were choked to death from the fume of a generator which they left close to their apartment.
The spokesman said the environmental health officer and his wife, who also worked in the same health department of Aba South, inhaled the fume from the generator leading to their death.
However, reports from a close family source told NAN that there was more to the death of the couple than the police report.
According to the source, the deceased couple had been quarreling over the man's amorous relationship with a strange woman who also works in the same department with the couple.
The source said the constant quarrels had led the man to abandon their rented apartment in Aba to stay in their village house in Bende, from where he went to work in Aba prior to the holiday.
He said the woman over whom the couple quarreled still visited him in his country home in Bende.
He further narrated that on Dec. 10, the environmental health officer invited his wife to the village to collect school fees for their four children.
"That was the last anyone heard of them until three days later when their corpses were discovered in their village home,'' the source further said.
He said the corpses were found already bloated.
– NAN