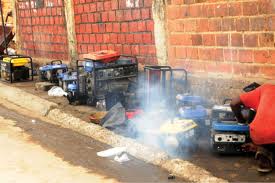 o5 September 2013, Calabar – A newly married couple, who packed to their house soon after wedding  have been reportedly killed by generator fumes in Ikot Omin on the outskirts of Calabar,  the Cross River State capital.
The couple, Bassey Effiong (27), his wife, Glory (21) and her younger sister, Emem (16), were said to have packed to the house yet to be completed by Bassey.
"When he got married, he decided to work on one of the rooms and moved in, while hoping to gradually complete the house," Mike, a neighbour to the couple said.

However, tragedy struck, Sunday night, when the couple  turned on their generating set and placed it on the corridor close to the  room,  where they slept but fume from the  generating set  was said to have  subsequently gained entry into the room in large quantity and suffocatded the couple along with Emem,  the wife's younger sister.
They were discovered dead several hours later by a naval officer,  David Ekanem, Bassey's uncle, who said he went there after he called Bassey's mobile number several times without response and on getting there at  5 pm, Monday, he met the tragic sight.
"I knocked several times on the door but there was no answer, so I had to force the door open. It was then I saw my nephew and his wife along with the young girl lying dead," the Naval officer said.
Spokesman of the Cross River State Police Command,  Mr Hogan Bassey,  said the matter was reported by the naval officer and the bodies evacuated to the  Infectious Disease Hospital  mortuary, Edgerly Road,  Calabar.
– Emma Una, Vanguard