…TotalEnergies get new Managing Director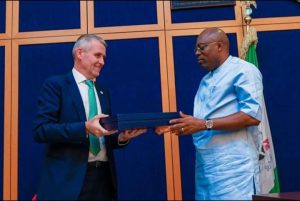 *Outgoing Managing Director of TotalEnergies, Mike Sangster (left), and Rivers State Governor, Siminalayi Fubara
Mkpoikana Udoma –
Port Harcourt — 
Rivers State Governor,  Sir
Siminalayi Fubara
, has assured that his administration will give international oil companies, IOCs, operating in the state, the needed support and cooperation to carry out their business.
This is as the governor also called for continued synergy between the oil firms operating in the state and the state government to promote a thriving business environment.
Governor Fubara made the call at government House, Port Harcourt on Friday, while receiving the outgoing Managing Director and Country Chair of TotalEnergies EP Nigeria Limited, Mike Sangster and his team, who paid a courtesy visit to the governor.
The governor, who observed that government needed revenue from oil companies to develop the state, assured of his administration's commitment to protecting economic investments in the state for the socioeconomic benefit of the people of the state.
He described the visit as a sign of respect for the government and implored the new Managing Director of TotalEnergies to have a better synergy with the state government to foster robust relationship between the company and the state.
"We will give you all the necessary support and encouragement, because if you don't do your business in a condusive and secure environment, you won't pay us our taxes and the tax is what we use to develop the state," the governor said.
Earlier, the outgoing Managing Director and Country Chair of TotalEnergies EP Nigeria Limited, Mr Sangster, thanked the governor for the audience, stating that his company was one of the major providers of gas for the Nigeria LNG Limited.
Sangster assured the governor of the company's readiness to continue to invest in the country, expressed concern over security of pipelines in the Niger Delta and appealed for support to ensure improved security of oil pipelines, particularly the Trans Niger pipeline used by the company for oil exports.
He said Rivers State was one of TotalEnergies' major operational bases in Nigeria, noting that as the most active IOC in the country, the company has maintained cordial working relationship with its host communities in the state.
He further used the meeting to introduce his successor, Matthieu Bouyer, to the governor, while assuring of sustained relationship.