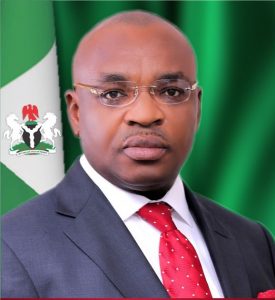 Mkpoikana Udoma 
Port Harcourt — Akwa Ibom State Governor, Udom Emmanuel, has asked the Federal Government to set up a depot for the storage of Aviation Turbine Fuel, ATK, commonly known as jet fuel, following the ongoing construction of a smart airport in the state.
The governor, who spoke on Wednesday in Uyo, when former
Vice President, Atiku Abubakar, paid a visit to the state, 
regretted that the state does not have any depot to store petroleum products despite being an oil producing state.
Governor Udom
maintained that 36.5 percent of the country's oil and gas reserve was domiciled in the state, but lamented that despite the state's contribution to the nation's economy, there has been no federal government presence in the state.
He added that Akwa Ibom though richly endowed with mineral resources has not been given a fair share of its resources, lamenting the deprivation of the state evident in the absence of federal government projects.
"A state that sits on 36.5% oil and gas reserves of this nation let them tell you what the federal government's presence is, every single dual-carriage way you drive here is done by the state government, every single structure you see in the state outside the Police they posted to me they have not given me anything.
"I don't even have a depot to store downstream petroleum product.
"I am developing one of the smartest and modern airport development in this continent, the simplest appreciation I would have gotten from the federal government would have been to give me a fuel Jet A1 depot as an oil and gas producing state. We need such depot here."
Earlier, former Vice President Abubakar applauded Governor Emmanuel's administration
over what he described as  massive economic development and infrastructural transformation.
Abubakar, who commended the level of economic development in the state, also commended previous leaders of the state for their contributions which he said  laid the foundation for rapid economic and industrial growth.
"Quite a number of things have endeared me to Governor Udom Emmanuel, the infrastructural development in the state, the other sectors of the economy in the state particularly the industrialisation policy of the governor and couple with social sector development health care and education these are very key areas of human development and he has not left them untouched."
Atiku, who decried the downward economic situation of the nation, however said that comparatively, Nigeria fared better under the leadership of the Peoples Democratic Party.
"Just compare the economic indices during the PDP and also the APC reign, the growth in GDP and industrialization and other sectors of the economy, we did extremely well and we also promoted the growth of the private sector," he said.
| | |
| --- | --- |
| | |