Oscarline Onwuemenyi 03 January 2015, Sweetcrude, Abuja – A civil society group, Socio-Economic Rights and Accountability Project, SERAP, has sent a Freedom of Information Act request to the Minister of Finance, Dr. Ngozi Okonjo-Iweala, asking her to "urgently provide information about the spending of the alleged missing N30trillion, which represents some accruable income to the Federal Government in the past four years."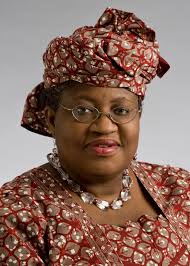 SERAP's request followed the disclosure by the former governor of the Central Bank of Nigeria, Prof. Chukwuma Soludo, that over N30trillion had been missing, or stolen, or unaccounted for, or simply mismanaged under the minister's watch.
The organisation threatened to "take all appropriate legal actions under the Freedom of Information Act to compel" the minister to comply with the request if "the information is not provided to us within 14 days of the receipt and/or publication of this letter."
In the letter of request dated February 2, 2015 and signed by SERAP's Executive Director, Adetokunbo Mumuni, the organisation, said, "As trustee of public funds, SERAP contends that your ministry has a legal duty to render account on the missing N30trillion to the beneficiaries (Nigerians) of the trust, if and when called upon to do so.
"As a key agency of government, the Ministry of Finance has a sacred duty to ensure that the country's resources and wealth are used solely to fulfill the basic economic and social rights of all Nigerians and achieve the country's overall socio-economic development.
"This implies providing strong leadership in the efforts to curb public sector corruption, and to refer to appropriate anti-corruption agencies any allegation of corruption in which agencies of government may be involved or officials of your ministry may be complicit," the organisation also said.
The organisation further expressed concerns that the stealing or mismanagement of such a large sum of public funds might be responsible for the economic crisis and attendant hardship being faced by millions of Nigerians.
"SERAP considers this a serious allegation that requires your immediate and urgent clarifications. If true, such allegation will clearly amount to a fundamental breach of national anti-corruption laws and the country's international anti-corruption obligations and commitments, under the UN Convention against corruption to which Nigeria is a state party," it stated.
It added that, "Any failure or refusal to render account on the missing N30trillion will also be clearly inconsistent with the attitude of a government that has repeatedly expressed commitment to the fight against corruption, and in fact signed the Freedom of Information Act," the it stated.