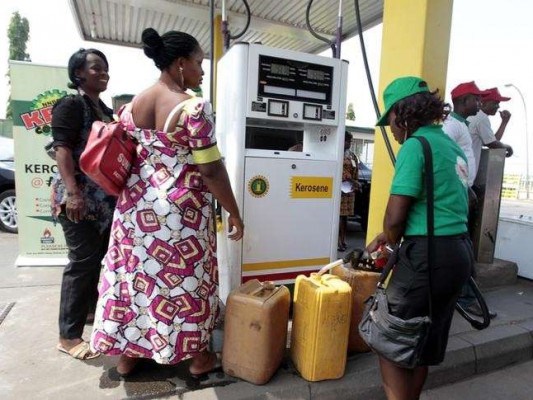 OpeOluwani Akintayo
Lagos — While Nigerians are still battling to stop the increase in petrol price from the current N160 per litre to above N200 per litre, SweetcrudeReports findings revealed that hapless consumers are already paying over N300 per litre of House Hold Kerosene, HHK commonly used for cooking.
Data sourced from the National Bureau of Statistics, NBS on 'Kerosene Price Watch' for February revealed that the average price per litre paid by consumers for National Household Kerosene, NHK increased by 1.50% month-on-month and by 8.83% year-on-year to N355.80 in February 2021 from N350.55 in January 2021.
States with the highest average price per gallon of kerosene were Bayelsa (N792.22), Adamawa (N968.00) and Delta (N1,016.79), while those with the lowest average price per litre of kerosene were Taraba (N448.33), Benue (N447.50) and Ebonyi (N435.00).
Similarly, the average price per gallon paid by consumers for kerosene increased by 1.94% month-on-month and decreased by -0.76% year-on-year to N1,214.24 in February 2021 from N1,191.13 in January 2021.
While states with the highest average price per gallon of kerosene were Kebbi (N1,660.00), Katsina (N1,561.38) and Nassarawa (N1,428.57), those with the lowest average price per litre were Bayelsa (N206.94), Yobe (N297.28) and Zamfara (N305.13).
The high-price trend for Kerosene did not start this year, as further checks revealed that the product was sold for an average of N352.79 in December.
The current official price for petrol is N160 per litre, and the national oil firm, NNPC already says Nigerians should expect an increment in price of above N200 per litre soon.
Although the NNPC has maintained an ex-depot price of N148.6/litre, however, its Group Managing Director, Mele Kyari says price would definitely increase after conclusion of its consultations and deliberations with labour unions.
Nigerians had recently kicked against an "attempt" by the PPPRA and oil marketers to jerk price up to between N209.61/litre and N212.61/litre.
Nigeria consumes about 57.44 million litres of petrol daily.
Although the NBS' reports do not state Nigeria's current daily cooking kerosene consumption however, available statistics from as far back as 2017 puts NNPC daily supply at five million litres out of national daily consumption requirement of eight million litres. The balance of three million litres of the product was being imported by private petroleum products marketers.
Nigeria's national population as at 2017 was 190,873,244, and has since increased to 200,963,599 in 2019, according to latest available data.
In the absence of data from NBS, and going by yearly population increase, SweetcrudeReports calculation puts current kerosene consumption to have peaked above 10 million litres per day.
The average price of kerosene in the world for this period is N303.94.
The Nigerian government does not pay subsidy on kerosene like it does on petrol.