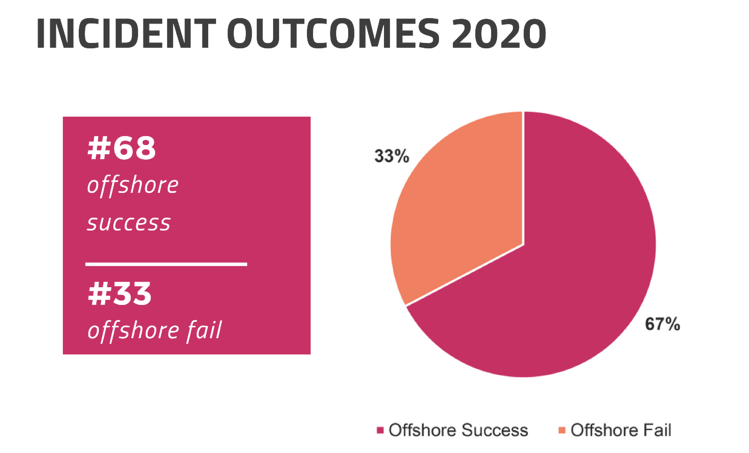 Lagos — The West African maritime security situation is at breaking point. Seafarer's lives are at risk from ever-increasing violent attacks and Nigerian pirates are operating with increased impunity. Maritime criminals have honed their business plan; they know the price point of insurers and the value of a crew member's life. In turn, shipowners have weighed up the cost of improved security measures against insurance premiums and know where their margins lie.
Operating in the Gulf of Guinea continues to present a serious and persistent threat to the safety and security of crews and vessels. 2020 saw 136 seafarers abducted in 27 incidents. Evidence also shows that attacks are becoming increasingly violent – the use of guns was reported in over 80% of kidnapping incidents last year.
Additionally, kidnappings are happening farther offshore and larger groups of seafarers are being abducted. Nation states in West Africa are overwhelmed; like the rest of the world, they are dealing with the effects of a global pandemic set against long-term economic and societal instability overseen by endemic corruption at the highest levels. Change must be homegrown, but the international community still has a part to play in being accountable for its actions and in supporting and empowering local security forces through knowledge sharing and partnerships.
Several regional frameworks have been implemented to solve piracy in West Africa.These include the Yaoundé Code of Conduct, which promoted information sharing and reporting, interdicting suspicious vessels, and ensuring apprehension and prosecution; the Lomé Charter, which was signed by 36 countries within the framework of the African Union, and created a legally binding regional commitment to the combating of maritime crime and piracy via several measures, including harmonising national legislation, guaranteeing resources to maritime security and safety, and state responsibility to patrol the anchorage areas, the EEZ, and the continental shelf; and the ECOWAS Integrated Maritime Strategy, which focuses on interagency collaboration at the national level to bring together the wide variety of stakeholders involved (e.g. the EU, UNODC Germany, Denmark, regional security and defence, law enforcement, humanitarian and social affairs, shipping, and port authorities). However, while the Gulf of Guinea remains the most dangerous environment for commercial maritime operations, it remains vital that implementation of these supranational measures be held to account. Cooperation between coastal states is especially pertinent considering the increasingly sophisticated and frequent attacks occurring on the high seas, where effectively addressing piracy is beyond the unilateral capacity of most regional states.
When, and indeed if, fully implemented, these frameworks have the potential to significantly reduce maritime crime and piracy in West Africa, yet positive rhetoric is still to be met with substantial implementation and progress.
For example, in the Yaoundé Code of Conduct, parties committed to strengthen and harmonise legislation to prevent pirates from finding more lenient treatment across jurisdictions, yet Nigeria remains the only country that has adopted the appropriate laws. The European Union committed to its "Gulf of Guinea action plan" in 2014 yet only committed to a pilot case of its 'Coordinated Maritime Presences' concepts 7 years later, at the beginning of 2021. The need for effective and speedy implementation of the agreed regional frameworks remains urgent.
On the 2nd of January 2020, in an incident off the coast of Nigeria, pirates managed to get the upper hand in a firefight with security personnel embarked on the oil dredger Ambika and were able to abduct three crew members, killing 4 military armed personnel.