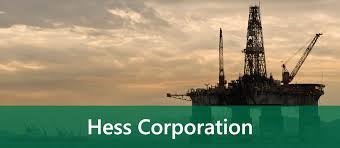 11 December 2018, News Wires — Oil and gas producer Hess Corp and Conocophillips both expect production for 2019 to be higher than this year even as they spend roughly the same amount of money on exploration, the companies said on Monday.
Investors have been urging U.S. oil companies to increase returns on tight spending at a time when they are also looking beyond the Permian Basin, which is getting crowded and costly.
Hess said the lion's share of its 2019 capital expenditure will go towards exploration in Guyana and Bakken. Conoco will spend most of its capex in Alaska and Canada, it said.
The 2019 production views come as global oil markets struggle with oversupply, resulting in producer group OPEC and other key exporters agreeing to cut their crude output from January.
Production in the United States, however, is expected to rise to a record high 10.9 million bpd in 2018 and 12.1 million bpd in 2019.
For Hess, production is expected to range between 270,000 and 280,000 barrels of oil equivalent per day (boep/d) excluding Libya, up from the 255,000 boep/d it expects in 2018, while ConocoPhillips was aiming to produce 2.0-2.6 percent more oil and gas next year.
Both kept their capital spending budget roughly flat – $2.9 billion for Hess and $6.1 billion for Conoco.
"As we focus spending on our high return investment opportunities, we will continue to reduce our unit costs to drive margin expansion and improve profitability," Hess Corp Chief Executive Officer John Hess said in a statement on Monday.
Last week, oil major Chevron Corp increased its spending budget for the first time in four years. The company said it plans to spend more on shale production next year, as well as in refining and chemicals.