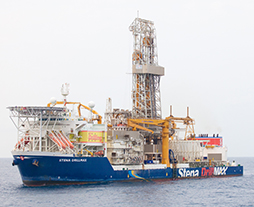 02 March 2013 – Hess Corporation announced Thursday it has completed drilling of its seventh consecutive successful exploratory well on the Deepwater Tano/Cape Three Points block offshore Ghana. The Pecan North-1 well, located approximately 7 miles northeast of the Pecan-1 well, encountered approximately 40 feet of net oil pay in Turonian aged reservoir.
The wells were drilled by the Stena DrillMAX (UDW drillship) in a range of water depths between 5,623 and 8,245 feet. Hess achieved outstanding drilling performance in terms of drilling time and cost per foot with gross costs averaging $40 million per well for the last three wells, including success case logging.
Based on the results of these wells and Hess' extensive experience in Equatorial Guinea, where the geology is quite similar, the company now plans to submit appraisal plans for the various discoveries to the Ghanaian Government for approval on or before June 2. In parallel, Hess has begun pre-development studies on the block.
Hess holds a 90 percent working interest in the block and is the operator. GNPC is a 10 percent equity interest partner and is carried through to the production phase of the license.
*Hess Corporation, Press release