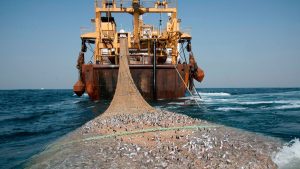 Vincent Toritseju
Lagos — Following the increased cost of Automated Gas Oil otherwise known as diesel used in powering fishing trawlers and boats, most of these boats have stopped going to sea to fish, a development which many industry observers believed may have caused the recent increases in the price of fish in the market.
Speaking to Newsmen in Lagos, the Secretary General of the Lagos State Fishermen Corporative Association, Capt Oladele Robinson (Retired Navy Captain), said that the lull being experienced in the n the nation's fishing and fisheries activities was due to the astronomical increase in the price of diesel.
According to Capt Robinson both industrial and artisanal fishermen, until about a year ago, bought diesel for N270 per litre, but now it cost between N1,300 and N1,500.
He explained that the cost of diesel has affected members of the group such that more than a 100 fishing boats are laying fallow at their various jetties.
He stated: ''The cost of diesel has become so astronomical and that is really affecting us. It has made some of our vessels to stop going to the sea to catch fish and this has resulted in the exorbitant prices of fish and other sea foods in the markets because the few of us that are running on smaller boats and vessels that are able to buy diesel at this prevailing rate have now passed the cost of diesel to the fish we are able to catch from the sea.
"That makes fishes like Barracuda or Shine nose, or Croakers jump from about N2,600 to about N4,000 per kilo now. And this is telling on the purchasing power of the consumer and end users. We do not know how government can help us particularly we that are involved in ocean fishing, that is industrial fishing.
''Even some of our artisanal members that are using engines that are run on diesel and some of them that run on petrol are also being affected right now because a litre of petrol goes for about N300 or N350 now from N170 that is almost double the cost of petrol.
"While the artisanal fishermen run boats that are using petrol the industrial sector use inboard engines that runs on diesel. So, these sources of power are so expensive now, it has led to an increase in the cost of fish and other sea products like Octopus, Ink fish that are highly medicinal to the end users.
"The development has affected quite a lot of our members because there are so many fishing companies now that are not even going to sea at all. The only ones that are still managing to go Atlantic Shrimpers, Karlflex and maybe Banarly go to the sea just once in a while.
"Some of us that are unable to afford the cost of these sources of energy have decided to anchor our fishing vessels at the jetties. Companies like Swan Fisheries, Zeta Fisheries are no more going to the ocean in the last six months. What we have resorted to doing now is to go to our boat builders at Ibeju Lekki to help us build smaller boats that will be easier to manage in terms of fueling because bigger boats are not manageable because the cost of managing bigger vessels is high such that at the end of the, when you spread the overhead on the products that are eventually caught and brought back to the jetty, the prices of these products will be high that the end users may not be able to even buy.
"The artisanal fishermen are mostly people that run daily fishing boats, two days fishing boats and not more than three days fishing boats because of the fact that they run on smaller boats. Boats whose total capacity of fish they can bring back to the jetty will not be more than 500 kilogrammes. Their capacity is usually not up to one ton. It's a maximum capacity of 500 kilogrammes because of their sizes. Some of them will go this evening and come back early tomorrow morning, some will go this morning and come in another two days' time. Some of them that are slightly larger, and they stay up to three days in the sea.
"The artisanal fishermen are more in population. I am involved in both artisanal group and the industrial group. The artisanal fishermen in Lagos alone are in seven fishing division, that is Ikorodu Division, Badagry Division, Ikeja Division, Apapa Division, Lagos Central Division, Ibeju Lekki Division and Epe Division''.
Speaking on the development, Mr. Chris Ajayi, Chief Executive Officer of Topher Marine, a boat building company, said that his company has received increased order to build small fishing boats that are more fuel efficient.
Ajayi also confirmed the fact that a lot of fishing companies are closing shops because of the increased cost of diesel.
He explained that his boats can go to sea and return within 24 or 48 hours with their catches.
"That way they spend less on fueling their boats" he stated.
Mrs. Kemisola Johnson, a frozen food seller in Igando market, said the cost of everything has risen over the past years and profit has also reduced alongside.
She added: "Even a carton of Panla fish which was N5, 000 as at 2015 is now over N12,000 depending on the kilogram.
"You will have to cut your coat according to your clothes in this present economy. I believe better days will come."
Follow us on twitter