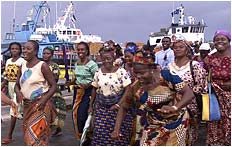 21 June 2013, Benin — Women wing of Host Communities of Nigeria Producing Oil and Gas in the nine oil-producing states of the Niger Delta has appealed to members of the National Assembly from the region to ensure the speedy passage of the Petroleum Industry Bill, PIB, to address the anomalies in the oil sector.
National Coordinator of the wing, Evangelist Carina Gassidy, who spoke ahead of the inauguration of the group on June 27, said that the passage of the bill will bring transparency and protection of women from the effects of oil exploration and exploitation in the region.
Gassidy said the body will be inaugurated by the President of Host Communities of Nigeria Producing Oil and Gas, Chief Alfred Bubor, adding that women from the region were ready to assist in the actualisation of the PIB.
"Our lawmakers are representing us and we appeal to them to push for the bill to be passed into law because it will ease the current problems we are encountering as a country in the oil sector.
"We had also made presentation and want to use this opportunity to commend President Goodluck Jonathan in his efforts to bring sanity to the oil sector."
Princess Uhunmwangho, who hosted the over 40 women that attended the meeting in Benin, expressed their readiness to support state governments in developmental projects in oil and gas communities and urged the governors to involve the women more.
*Simon Egbegbulam, Vanguard