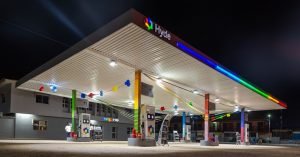 – Restates commitment to boost Nigeria's lubricant industry

Lagos — Hyde Energy Limited, has announced the rebranding of its Luminor ZM5 20-W50SL range of lubricants.
The Luminor ZM5 20-W50SL, a mineral-based multigrade engine oil manufactured under a strict quality-controlled environment, is designed to provide excellent lubrication suitable for gasoline, LPG, and diesel engines in modern passenger cars and light vans with or without turbochargers and has continually increased its market share within the industry.
While maintaining its quality, the lubricants produced at Hyde Energy are blended under a strict quality-controlled environment, using best-in-class raw and packaging materials with firm adherence to international best practices, SON and NMDPRA standards and performance specifications from the American Petroleum Institute (API) and other leading bodies. In addition, all additives used in the production process have approval from OEMs to ensure the highest possible engine performance.
The commitment to excellence extends to the use of additives that have received the seal of approval from Original Equipment Manufacturers (OEMs). This ensures the highest level of engine performance across various sectors, including aviation, marine, transformers, compressors, turbines, heavy-duty/industrial diesel engines, petrol/light diesel engines, and more, encompassing a wide spectrum of applications.
Speaking about the rebranding for Luminor ZM5 20-W50SL, Chief Executive, Hyde Energy, Mr. Oladimeji Edwards, said: "We are excited to introduce the new look of our lubricant. The rebranding is a way to continue to innovate while we remain constant with our brand proposition to our esteemed customers that we will always stay true to our commitment to providing the highest-quality lubricants possible. We believe that our new look represents our forward-thinking approach to the lubricant industry."
Hyde Energy's Head of Lubricants, Ayobami Isaac Olowolayemo said: "The rebranded Luminor ZM5 20W50 lubricants are now readily available in the market and we are confident that our loyal customers are embracing this exciting new look. The initiative underscores our dedication to continuous innovation, excellence, and enhanced quality."
Speaking on Hyde Energy's commitment to environmental sustainability, He noted that while designing the packaging, the company factored in a sustainable environment, hence, the new packaging is environmentally friendly, and the plastics can be recycled.
In addition, the company has implemented measures to prevent adulteration, ensuring that its customers receive only the genuine product.