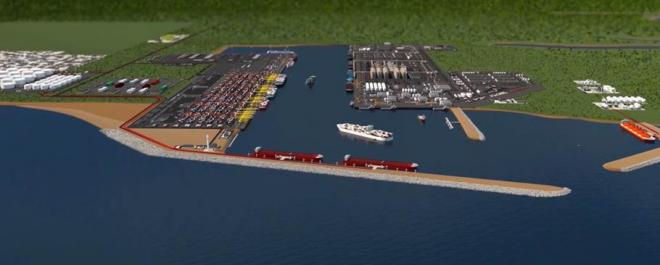 Mkpoikan Udoma 
10 October 2018, Sweetcrude, Port Harcourt — The Akwa Ibom State Government has hinted that the ground-breaking for the commencement of the construction of Ibom Deep Seaport will hold by the end of November this year.
Akwa Ibom State Commissioner for Housing and Special Duties, Mr. Akan Okon, who gave the hint during a dinner with journalists, said the seaport would be viable and an alternative to Lagos port, and that its draft was two times the size of Lagos seaport.
Okon, who assured that the Ibom Deep Seaport project, was on course and would soon be a reality for the good of the state and the country at large, stated that it was being jointly financed and promoted by Akwa Ibom State Government and the Federal Government through the Federal Ministry of Transportation.
He explained that the project was being engineered  by the Ministerial Project Development Steering Committee, MPDSC, set up by the Federal Ministry of Transportation, and consists of the ministry representatives, Nigerian Port Authority, ICRC, the programme manager, ICPC and EFCC, members of the technical committee and the state government.
According to him, "With the level that we have reached and the timetable that we have, by the end of November 2018, God willing, there should be a groundbreaking. So, Ibom Deep Seaport is a reality for the good of Akwa Ibom State and Nigeria.
"Let me also make this clear. Almost all the bidders that were shortlisted have visited the site of the project. They have done their studies and I can tell you that from their designs, they have a minimum of 16.5 metres draft at the original location of the project, which is Ibaka.
"This is the best for modern vessels as against Lagos port that has 8 metres draft. So, our draft is an attraction for many shipping lines because modern vessels can come directly to the port and discharge. Our seaport is very viable and it is the best alternative for the Lagos port."