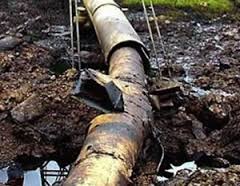 Oscarline Onwuemenyi
17 February 2017, Sweetcrude, Abuja – The Federal government has stated that illegal oil refining in the Niger Delta would soon be a thing of the past, following Federal Government's plan to liberalise participation in its proposed establishment of modular refineries.
The Coordinator of the Presidential Amnesty Programme, Brigadier-General Paul Boroh (rtd.), made this known in an interview with the News Agency of Nigeria in Abuja on Thursday.
The Acting President, Prof. Yemi Osinbajo, had announced government's plan to set up the refineries during an interactive session with stakeholders in Port Harcourt, Rivers State on Tuesday.
Osinbajo made the announcement during his official tour of the region.
According to the acting president, youths involved in illegal refining of crude oil will be employed in the modular refineries to be established by the government in the region.
Boroh, who is also the Special Adviser to the President on Niger Delta Affairs, said setting up of the refineries would open up the sector for inclusive participation.
This, Boroh noted, would go a long way in dousing the sense of marginalisation that was fuelling agitation in the area.
He added that ex-agitators and other unemployed youths in the region would be encouraged to engage in the setting up of the proposed refineries.
This, he explained, would lead to job creation, availability of petroleum products at affordable rates and reduction in environmental pollution occasioned by illegal oil refining activities.
Boroh said: "Besides bringing job opportunities close to the people of the region, modular refineries will also bring the petroleum products close to Nigerians at competitive price.
"Illegal refining activities currently taking place in the creeks and environs are alarming. These have led to pipeline vandalism, river and land pollution, environmental degradation, oil theft and loss of revenue to the Federal Government.
"The poorly refined products when sold and distributed will result in economic and health disasters such as vehicle breakdown and kerosene explosions, among others."
The presidential aide called on the people of the region to support government's plan and take advantage of the resultant investment and job opportunities.
Boroh also called on stakeholders in the oil and gas sector to invest in the establishment of modular refineries as a solution to the persistent fuel scarcity bedeviling the country.
He said: "Modular refineries in Nigeria will increase local refining capacity, sustain supply and reduce the importation of petroleum products into the country.
"Consequently, the pressure on our foreign reserves will be drastically reduced, while the value of the Naira will ultimately receive a huge boost."