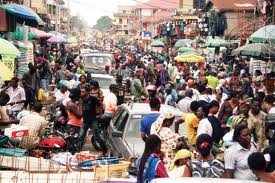 Oscarline Onwuemenyi
20 October 2016, Sweetcrude, Abuja – The International Monetary Fund, IMF, has projected Nigeria as Africa's biggest economy, in spite of its current challenges.
The new IMF report placed Nigeria ahead of South Africa and Egypt which are second and third respectively.
In August, Nigeria was reported to have lost its position as Africa's biggest economy to South Africa, following the recalculation of the country's Gross Domestic Product (GDP).
South Africa's economy reportedly leapfrogged Nigeria's as Africa's largest in dollar terms, reclaiming the top spot it lost two years ago.
Both economies face recession after contracting this year. But while the South African rand has gained more than 16 per cent since the beginning of 2016, Nigeria's naira has plunged by more than a third of its value.
At their respective exchange rates, Nigeria's gross domestic product is $296 billion, while the size of South Africa's economy is $301 billion, Bloomberg reported Wednesday, quoting the International Monetary Fund figures at the end of 2015.
Nigeria's GDP was in excess of $500 billion when the nation's economy surpassed South Africa's in April 2014. That followed the recalculation of the GDP data by the former government of Goodluck Jonathan – the first time that happened in two decades.
Nigeria is facing its worst economic crisis in decades, and the economy has shrunk by 0.4% since 2015 amid low oil prices and output and acute shortage of foreign currency.
But the IMF's World Economic Outlook for October, puts Nigeria's GDP at $415.08 billion, from $493.83 billion in 2015, while South Africa's GDP was put at $280.36 billion, from $314.73 billion in 2015.
According to the report, Egypt's 2016 data is not available, but its 2015 size remained at $330.159 while that of Algeria, one of the largest economies on the continent, is put at $168.318 billion.
The United States, China and Japan maintain their spots as the largest economies in the world, ahead of Germany, United Kingdom and France.
According to a review in September, the current economic recession will outlast 2016, with a Gross Domestic Product (GDP) contraction of 1.7 per cent.
The IMF had predicted that Nigeria's economy would grow away from a recession in 2017.
The country last witnessed a recession, for less than a year, in 1991, and experienced a prolonged one that started in 1982 and lasted until 1984.
President Muhammadu Buhari's administration has so far disbursed over N700 billion in capital expenditure this year, part of a record N6.06 trillion (30 billion dollars) budget for 2016.