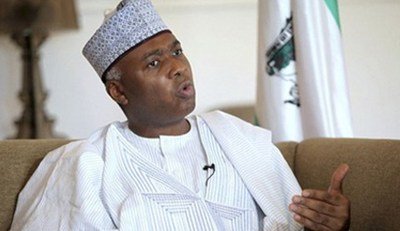 Oscarline Onwuemenyi
07 November 2017, Sweetcrude, Abuja – President of the Senate, Dr. Bukola Saraki, has taken the Federal Government to task over the 2018 budget, saying how the budget is implemented will be the defining moment of the President Muhammadu Buhari administration.
Saraki said this at the joint session of the National Assembly when President Buhari made the presentation of the 2018 Budget Proposal
He noted that the country needed to increase non-oil revenue, adding that infrastructure development must be a continuous priority of the administration.
"In the implementation, we must ensure that projects are not overpriced, while people must see a future for themselves in every corner of this country, " he said.
He counselled the Federal government to eliminate what he described as "unnecessary waste" in the budget implementation.
The Senate President urged President Muhammadu Buhari to lobby lawmakers and close ranks in order to drive policies of government effectively, even as he assured the executive of lawmakers'S commitment in supporting his administration to succeed.
"It is heart warming Mr. President, to have you present the 2018 budget to joint sessions of the National Assembly. This is the first time, budgets of the preceding year was being presented on time, and to us as legislators, this is a good development.
"Mr. President, let me assure you that the 490 lawmakers are your true partners who are seriously working to ensure success of your administration," he added.
According to him, Buhari's policies of ease of doing business has paid off, saying that the country under him has experienced a quantum leap as was acknowledged by the World Bank.
The Senate President further counseled the executive to implement the 2018 Budget on Made in Nigeria goods so as to strengthen domestic economic incomes.
Speaking on domestic and foreign borrowing, he charged the executive to channel such borrowings into productive projects.
He cautioned agencies of government to avail their budgets on time, adding that any agency caught going against due processes would be denied of its capital budgets.