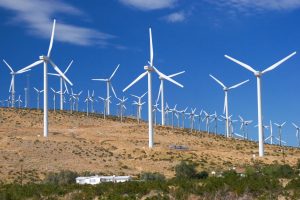 17 December 2017, New Delhi – The Indian Power ministry today said it has issued guidelines for transparent procurement ofwind power through tariff-based competitive bidding in a bid to boost the clean source of energy.
The government has already auctioned 2 GW wind capacity so for in the first and second round this year. In the third round, it has floated tender for another 2 GW capacity last week.
The norms are significant because the government had decided to put for bidding 10 GW wind capacities each in 2018 -19 and 2019-20 to meet the target of 60 GW by 2022. At present, wind power installed capacity is 32 GW.
The government has issued guidelines under Section 63 of the Electricity Act, 2003, providing a framework for procurement of wind power through a transparent process of bidding including standardisation of the process and defining of roles and responsibilities of various stakeholders, a power ministry statement said today.
According to the the statement, these guidelines aim to enable the distribution licensees to procure wind power at competitive rates in a cost-effective manner.
It said the guidelines are applicable for procurement of wind power from grid-connected wind power projects (WPP) having individual size of 5 MW and above at one site with minimum bid capacity of 25 MW for intra-state projects.
Besides, it will also cover individual size of 50 MW and above at one site with minimum bid capacity of 50 MW for inter-state projects.
The key components the guidelines include compensation for grid unavailability and backing-down, robust payment security mechanism%2