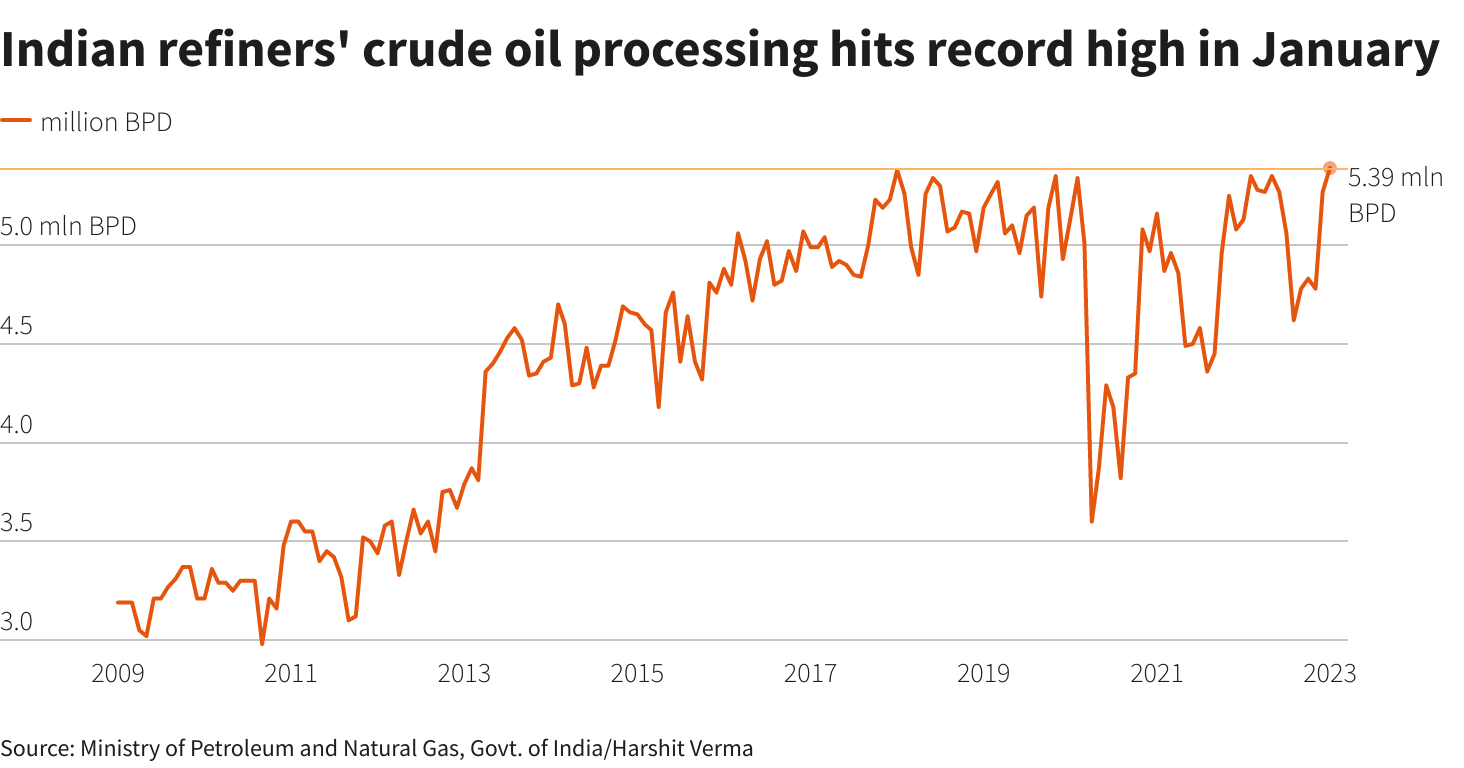 Bengaluru — Crude oil processed by Indian refiners reached record levels in January, provisional government data showed on Wednesday, as the country boosted shipments of lucrative Russian barrels that Western countries shunned.
Refinery throughput at 5.39 million barrels per day (22.80 million tonnes) for January was the highest since Reuters records going back to 2009.
"Indian refiners are churning out refined products due to strong demand and on discounted Russian feed stock," said Refinitiv analyst Ehsan Ul-Haq, adding that refinery margins are strong as refiners are getting crude at lower prices and can sell them at higher rates due to a healthy demand.
Data from trade sources last week showed India's oil imports from Moscow were the highest on record in January, as the world's third-biggest oil importer and consumer emerged as Russia's key oil client.
Overall crude oil imports rose to a six-month high last month, while the country's fuel demand is further expected to grow 4.7% in the next fiscal year beginning on April 1, initial government estimates showed last week.
"Sooner or later, Middle Eastern refiners might have to revise their official selling price to compete against Russia," Ul-Haq said adding that "with Europe now lacking Russian diesel, Indian refiners are also likely to profit from diesel exports."
Asia's third-biggest economy holds surplus refining capacity and exports refined fuels as well.
Refineries' capacity utilisation jumped to 106.91% in January this year from 104.39% the previous month, with India's top refiner, Indian Oil Corp (IOC) (IOC.NS), operating its directly owned plants at 109.97% capacity, as per the data.
Natural gas output rose close to 4% to 2.97 billion cubic metres year on year, while crude oil production was down 1% year on year to 2.48 million tonnes, the data showed.
Meanwhile, India's Hindustan Petroleum Corp (HPCL) announced in February plans to start its 9 million tonne-a-year Barmer refinery and petrochemical project in Rajasthan state by January 2024, in an effort to cut its petrochemical imports.
*Rahul Paswan & Swati Verma; Harshit Verma; editing: Jason Neely & Josie Kao – Reuters
Follow us on twitter