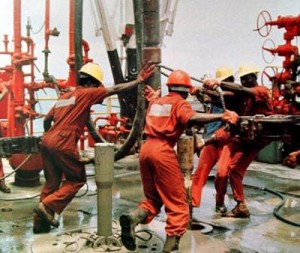 27 August 2013, Lagos – The Nigerian government says indigenous companies' contribution to the oil and gas sector has recorded significant improvement, and currently accounted for about 10 per cent of the countries crude production.
The Department of Petroleum Resources, DPR, had last March stated that indigenous oil companies accounted for only six per cent of Nigeria's total crude production, while foreign oil companies accounted for 94 per cent.
According to the DPR, of the total of 388 oil blocks in the country, Nigerians owned 90 blocks while foreigners owned 83 blocks.
Speaking at the Nigerian Association of Energy Correspondents, NAEC 2013 Annual Conference in Lagos, Mr. Abiye Mebere, Petroleum Industry Bill, PIB, Team Lead, said that of the about 2.2 million barrel per day crude output, the local firms are producing about 220,000 barrels daily.
According to Membere, who was represented by Mr. Victor Briggs, Managing Director, Nigerian Petroleum development Company, NPDC, the increase in local companies' output is as a result of their access to acreages, following ongoing reforms in the Petroleum sector.
He further stated that the passage of the Nigerian Content Development Monitoring Board, NCDMB, has impacted positively on the Nigerian oil and gas industry, and has helped grow indigenous participation in the sector.
He said, "Stakeholder efforts in the mould of Federal, State and Local Governments, Nigerian National Petroleum Corporation, NNPC, International Oil Companies, IOCs, host communities among others, have also given support to the far reaching reforms in the oil and gas sector of which the passage of the NCDMB Act in 2010, is a success story.
"Local participation has grown from less than 10 per cent to over 30 per cent in upstream operations with other spin off effects."
He further stated that the interests of indigenous oil companies will be promoted in the PIB, as it will ensure that unutilised blocks are either worked or sold to indigenous players.
According to him, in some cases, in an average block size of about 1,000 kilometers, less than 20 per cent were explored. "In this case, the PIB provided for idle blocks to be worked within a certain time frame. This will, in a way, increase indigenous participation, as it will provide local firms with access to acreages."
He expressed optimism that the passage and successful implementation of PIB will help sustain the gains of Nigerian content development, promoting local manufacturing, entrepreneurial development and in-country capacity and capability.
He further stated that the PIB is expected to help create a robust economic environment to attract investments; assure revenue growth beyond the short term; create strong and independent regulators to develop, and enforce open, fair and transparent rules in the oil and gas sector.
Membere maintained that the PIB will, "Liberalise and deregulate the midstream and downstream sub-sectors of the oil and gas industry; create a commercially oriented National Oil Company that will compete effectively with its peers and foster progress on government transformation agenda especially in the areas of growth, employment creation, power and industrial development."
Continuing, he declared that, "The PIB represents the largest overhaul of the government petroleum revenue system in the last four decades. This overhaul has four central objectives:
"To simplify the collection of government revenues; to cream off windfall profits in case of high oil prices; to collect more revenues from large profitable fields in the deep offshore waters, and to create Nigerian employment and business opportunities, encouraging investment in small oil and gas fields."
– Michael Eboh, Vanguard