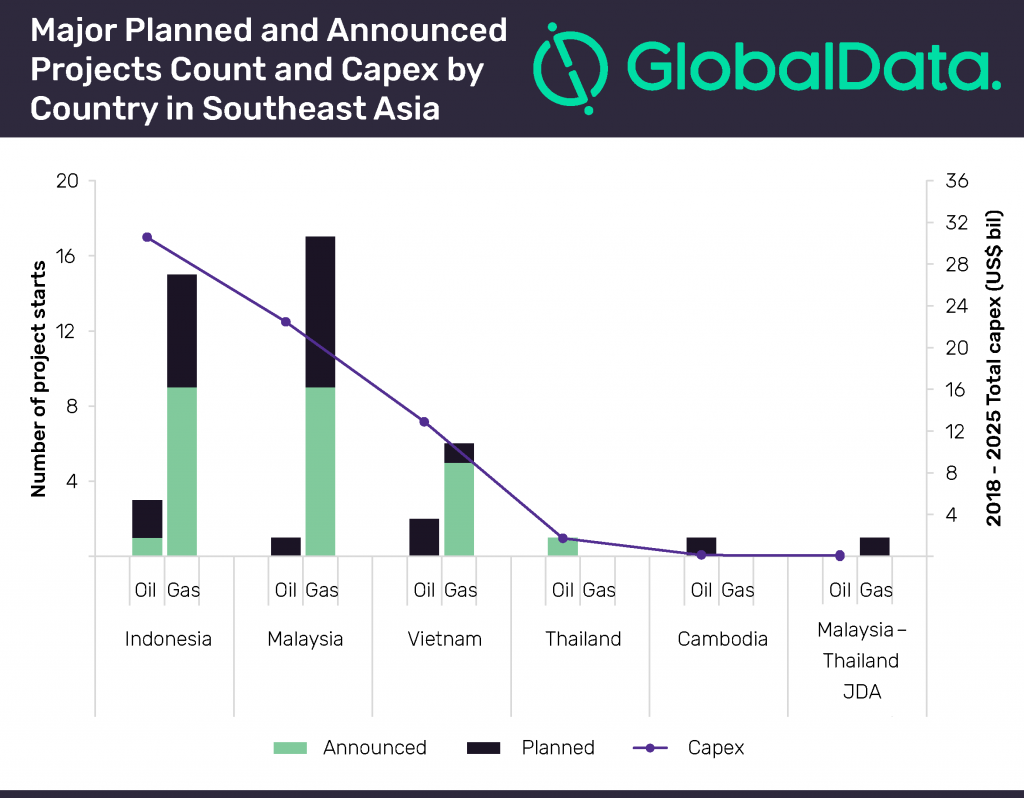 17 October 2018, Sweetcrude, Lagos — A total of 47 crude and natural gas projects are slated to commence operations in six Southeast Asian countries over the period 2018 to 2025.
Among the countries, Malaysia and Indonesia are set to lead in terms of planned and announced oil and gas projects during the forecast period, says leading data and analytics company GlobalData.
Of the total crude and natural gas projects, 22 are planned projects with identified development plans and 25 are early-stage announced projects that are undergoing conceptual studies and that are expected to get approved for development.
The company's latest report, 'Q2 2018 Quarterly Production and Capital Expenditure Outlook for Key Planned and Announced Upstream Projects in Southeast Asia – Indonesia and Malaysia Lead in Upcoming Projects Count' reveals that the planned and announced projects are expected to contribute around 197,000 barrels of oil per day (mbd) of global crude production and approximately 8,219 million cubic feet per day (mmcfd) of global gas production by 2025.
Jonathan Markham, Oil & Gas analyst at GlobalData explains: "Natural gas fields are the main focus of upcoming projects in South East Asia, but despite some pickup in the number of projects receiving sanction over the past 12 months, the key developments that will drive production and capex growth, such as Abadi and Gendalo-Gehem are yet to be approved."
With nine planned oil and gas projects, Malaysia leads among countries, followed by Indonesia and Vietnam with eight and three projects, respectively. Indonesia leads in terms of announced projects with 10, followed by Malaysia and Vietnam with nine and five, respectively.
Among operators, Sapura Energy Berhad and PETRONAS Carigali Sdn Bhd lead with the highest operatorship with two planned projects each, all being natural gas projects. Eni SpA follows with one planned natural gas project. In terms of announced projects, Sapura Energy Berhad has interest in three early-stage projects, followed by PETRONAS Carigali Sdn Bhd and Eni SpA with one project each.
Among companies, Petroliam Nasional Berhad, PT Pertamina (Persero) and Royal Dutch Shell Plc have the highest capex on planned projects with US$3.4b, US$2bn and US$1.6bn, respectively. On announced projects, Petroliam Nasional Berhad, Royal Dutch Shell Plc, and Exxon Mobil Corp have the highest capex with US$8.4bn, US$7.3bn and US$4.9bn, respectively.