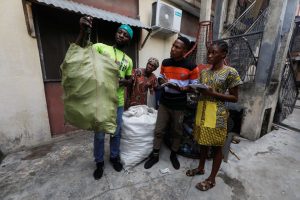 Oritsegbubemi Omatseyin
Lagos — An initiative by Sahara Group Foundation, Lagos State Employment Trust Fund, LSETF, and Wecyclers is offering cash incentives to residents of Lagos State in exchange for recyclable waste materials.
The initiative, known as Go-Recycling, is aimed at promoting sustainable environmental practices across Lagos State and has so far launched four recycling exchange hubs in the state, out of the twelve expected to be established before the end of the year.
The hubs, which are located in Isolo Local Council Development Authority, LCDA, Osolo Way, Aswani Road; Igando-Ikotun LCDA, Ikotun-Idimu Road, Off Egbe Road; Lagos Island LCDA, 173 Adeniji Adele Road; and Onigbogbon LCDA, 30 Kudira Abiola Way, Oregun, Ikeja, are open during weekdays from 9 am-5 pm.
Hub representatives are available on-site to receive recyclables, provide guidance, and share insight on how recycling can help transform lives and impact environment sustainably.
Recyclables such as pet plastics, pure water sachets, plastic chairs, plastic tables, paper, cardboard, HDPE, LDPE, can bottles, and glass bottles when taken to any of the hubs will be weighed and recorded for collection of cash whether instantly or periodically depending on the choice of the individuals.
The representatives said Lagos residents are encouraged to 'Go-Recycling' by choosing to join the movement of environmentally conscious people contributing to protecting and preserving the environment for today and future generations.
Speaking at the launch of the most recent hub in Onigbongbo LCDA, Ejiro Gray, Director of Sahara Group Foundation, expressed delight about the project's progress, stating that "the Go-Recycling project is set to significantly impact lives and communities across Lagos". She encouraged Lagosians to embrace the project by visiting the hubs to exchange their waste for valuable rewards".
Gray added that the momentum witnessed since the launch of the first hub in Ikotun is inspiring and the impact of the project on people and the environment will be evident for all to see.
Sahara Group Foundation and its partners, LSETF and Wecyclers, through this initiative, are helping to create awareness about recycling and promote its adoption. By making a conscious effort to reduce, reuse, and recycle, you too can become an agent of change contributing to a cleaner, healthier, and sustainable Lagos.
Follow us on twitter