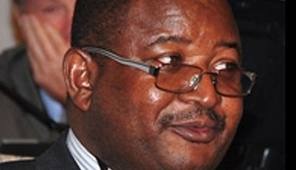 *Says govt set to begin bid rounds on oil assets
Yemie Adeoye and Oscarline Onwuemenyi
07 May 2013, Sweetcrude, Houston, Texas – The Federal Government has insisted that there was no cause for alarm over on-going divestment of petroleum assets by multinational oil companies operating in the country, since those assets are readily taken up by indigenous operators.
The Group Managing Director of the Nigerian National Petroleum Corporation, NNPC, Andy Yakubu, who stated this in a question and answer session at the on-going Offshore Technology Conference, OTC, taking place in Houston, Texas, further disclosed plans by the federal government to commence the bidding process for some of the abandoned assets by the oil majors once it completes a review on them.
He observed that a lot of the oil assets that have been divested by the oil majors have mostly been abandoned and it was only a good thing that they were being taken over by local participants for onward exploitation and production of crude.
Particularly, he noted, Shell divested about five assets which were taken up by indigenous operators. We also have other assets that are being listed for farming in by indigenous participants because they have not received adequate attention by the IOCs.
"The Department of Petroleum Resources, DPR, has itemized quite a number of these assets which had been neglected by the IOC, and they are receiving presidential attention. As soon as they properly compiled the bid rounds will commence and the assets will be made available," Yakubu announced.
He pointed out that there have been more divestments by the IOCs, including Conoco Phillips, Total and Exxon Mobil, adding that those assets are expected to end up in indigenous hands. "There is a conscious effort to build the capability and capacity of indigenous operators in the upstream sector of the oil and gas industry. That is the good news," he added.
He lamented that indigenous participation "has not been high enough but, we must add, that there has been significant improvement over the years. As at last year, we were just about 10 percent of total production but because of increased government attention we are expanding the capacity of upstream participation, and within the past couple of years there has been a significant divestment of assets from the majors and those assets were the ones that they (majors) actually did not pay much attention to.
According to the NNPC boss, Nigeria is very central and strategic in contributing to the energy mix of the world. "As at today, the country has over 36 billion barrels of crude reserve and 187tcf of gas reserves and that makes us about the 12th highest reserves in the world.
"These reserves are spread across mainly the Niger Delta basin. There is of course additional potential which has not been exploited, and we believe when we go into that it is estimated that we are going to strike almost 600tcf of gas.
So, there is no doubt that we have a very huge asset base and a very robust reserve to production ratio. Nigeria, for a long time to come, will continue to remain central and strategic and will continue to dominate our sub-region, even as we remain key and prominent in the global sphere," he noted.
Yakubu further noted that the fiscal regime for the industry as contained in the Petroleum Industry Bill, PIB, currently in the National Assembly would definitely be in the interest of the country "in terms of revenue flow and it will also encourage investors to come in and play in the hydro-carbon industry in Nigeria."
He also observed that given that existing refineries in the country were built more than two decades ago with limited production levels, and with the increase in population and consumption rates over the period, there was an urgent need to invest in additional refining capcity to meet the growing demand for petroleum products across the country.
"We are taking every step to ensure the production capacity in our existing refineries. As at last week, we announced a recovery of about 10,000 litres capacity of crude oil daily. This in-country capacity is more than two times what it was about two years ago.
"This is going to be closely followed by the green-field refineries some of which are already under construction across the country. The additional capacity from the green-field refineries is expected to make up for about the 50 percent capacity that is needed today. Our daily consumption is over 35 million litres, and the current in-country production capacity is about 17 million litres, so the additional capacity from the green-field will be needed.
"However, we must get the business model right. There are quite a number of things that are wrong, and there is no investor that will come and invest in a deregulated environment. There are things that we need to do upfront to encourage the investors to come and invest," Yakubu added.