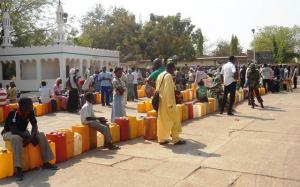 13 August 2013, Lagos – The Independent Petroleum Marketers Association of Nigeria, IPMAN, has described as false the recent alarm raised that there was scarcity of kerosene in the country, saying the alarmists were mischievous marketers.
The National Secretary of IPMAN, Mr. Mike Osatuyi, stated this while briefing journalists after a recent meeting of the National Executive Committee, NEC, of the body in Lagos.
Osatuyi said the NEC of IPMAN also noted with dismay the recent calls by some mischievous Nigerians c for the removal of the leadership of Pipeline and Product Marketing Company, PPMC.
He said that IPMAN had investigated and confirmed that the mischievous Nigerians were paid agents planning to disrupt the current serenity in the downstream sector.
"IPMAN controls over 85 per cent of Nigeria's petroleum products retailing, which makes our association a dominant player in the Nigerian downstream market. IPMAN is in a vintage position to talk authoritatively on the petroleum products supply and retailing chain in Nigeria. Nigeria has been enjoying consistent supply of petroleum products in the system for a long time arising from the activities of NNPC/PPMC largely and contributions from other marketers, '' he said.
Osatuyi stated that the NEC of IPMAN had commended the concerted effort of PPMC in sustaining steady supply of petroleum products to Nigerians.
He noted that upsurge in any market mechanism could be ruled out, adding that the kerosene market could not be an exception.
Osatuyi said IPMAN had also confirmed that the current upsurge in kerosene market demand was being addressed by the PPMC through innovative measures.
"IPMAN therefore urges PPMC not to be distracted by the ranting of misguided elements singing the tunes of their paymasters, but endeavour to sustain the current level of supply which IPMAN estimates at about 10 to 11 million litres of DPK daily to the system. We call on all relevant agencies in charge of petroleum products monitoring and policing to discharge their duties effectively. In the same vein IPMAN urges all her members to sustain the current retailing system so as to provide quality services to Nigerians," he added.
Osatuyi said IPMAN NEC had confirmed that PPMC had successfully been monitoring vessel discharges electronically, while electronic tracking of kerosene vessels has made round- tripping of kerosene vessels impossible in the system.
"Some Marketers found to have diverted DPK vessels as were detected through PPMC's electronic vessel tracking system have been sanctioned by PPMC.
Furthermore, it should be noted that the National President of IPMAN has called on all Stakeholders to determine the current National consumption of Kerosene, as Kerosene is being used by manufacturers massively.
The increase in national population will definitely transform to more consumption year by year, while the diversion of DPK for Aviation use cannot be ruled out,'' Osatuyi added.
He charged the relevant government agencies to check the suspected diversion of kerosene through the porous Nigerian boarders.
– Ejiofor Alike, This Day