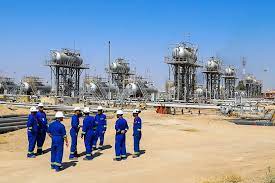 OpeOluwani Akintayo
with Agency report
Lagos — The Iraqi government has given its approval for the Iraqi National Oil Company to acquire Exxon Mobil Corp's stake in the West Qurna 1 oilfield.
Iraq oil minister, Ihsan Abdul Jabbar said on Wednesday, that the West Qurna 1, in southern Iraq, is one of the world's largest oilfields with recoverable reserves estimated at more than 20 billion barrels.
It had a production capacity close to 500,000 barrels per day in 2021, according to Iraqi officials.
State-run Basra Oil Company director Khalid Hamza told Reuters last year that Exxon would sell its 32.7% stake in the field for $350 million.
Follow us on twitter