21 February  2016, Lagos- Over the past 18 months, crude oil prices have fallen to below $35 per barrel from their apex of above $110 per barrel. They, however, began to gain some notch up that suggests a likely positive price movement in the near future, writes Chineme Okafor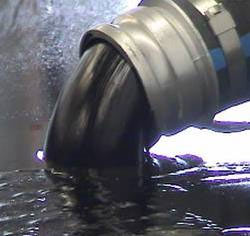 At the last World Economic Forum in Davos, the Minister of State for Petroleum Resources, Dr. Ibe Kachikwu, was clear about his expectations- that oil prices would rise to $40 per barrel by the end of the year.
Kachikwu had said then that: "Oil prices could get worse in the short-term, but the second half of this year holds more promise."
He had not hidden his desire to see prices pick up and has continued to engage with relevant stakeholders to buoy this desire. And especially with Nigeria's precarious oil revenue profile – the country had been hit hard by the falling prices of oil – Kachikwu was obviously at variance with Qatar's desire that production levels long adopted by the Organisation of Petroleum Exporting Countries (OPEC) be kept untouched.
Parts of Kachikwu's request had been a call on production cuts by fellow producing members of the OPEC and other non-OPEC countries like Russia, to at least shrink the supply glut, squeeze the US producers and shore up prices. He was firmly supported by Venezuela, another country in the same revenue shoes with Nigeria.
Then, oil prices began to rise above $35 per barrel the previous Thursday after a Venezuela-led advocacy has resulted in a proposal to freeze production output. Saudi Arabia – OPEC's biggest producer and Russia – OPEC's long-term non-member ally had agreed to a production freeze which Iran also welcomed.
The plan by Russia and Saudi Arabia to freeze output at January production levels, as well as an industry report from the American Petroleum Institute showing a surprise drop in U.S. inventories by 3.3 million barrels resulted in the positive oil price movement.
While the development looks inviting to suggest a rebound in prices, industry experts, however, consider this to be somewhat a little premature. In their analysis, these experts say that a rally northwards in prices may not be a real deal now especially when extant market fundamentals are considered.
For example, OPEC in its February monthly oil market report stated that ongoing excess supply, the weakening Chinese economy and lower seasonal heating demand have continued to weigh heavily on the market, making price movements to rather remain at a depressing level.
Moreover, OPEC noted that swelling crude and product inventories have also sustained their pressure on the difficulties oil prices currently face.
In a telephone interaction with THISDAY on this development, especially the planned production output freeze by Saudi Arabia and Russia, the Chief Executive Officer of the International Institute for Petroleum Energy, Law and Policy (IIPELP), Dr. Tim Okon, described the price movement as mere movements that would not last.
"It is not going to be a long-term thing because prices go up and down. These are just noises because the market is also driven by speculations from what you call non-physical barrels and there are people who are making money from
those movements and they drive them," said Okon.
He further stated in relation to the output freeze: "The first aspect is a freeze at what level because the freeze is still at certain oversupply levels. If you are freezing and keeping the oversupply situation, then it is not sustainable in the long term, but if you freeze and economic growth picks up, then the demand side will catch up with the oversupply and therefore prices will firm."
"So there are two things to consider: a freeze in production which maintains the oversupply situation and so it cannot sustain positive price movement on a long term basis and if the freeze is maintained and economic growth picks up, then there is an economic growth that will drive demand to meet up with supply.
"We need to understand how we got here, it is a supply and demand dynamics and this explains how we got here.
"Freezing and maintaining oversupply does not address long-term the market fundamentals but if it is accompanied by increase in demands from all the usual people that make demands; India, China and all others, then I think that will be it because prices are determined by certain market fundamentals," Okon added.
While CMC Markets, a UK-based trader, in its analysis believes that oil prices are going to have to rise at some point, it still recognises that there is so much production currently underwater.
CMC Markets notes that oil prices at $34 per barrel could be the next resistance point for the commodity. It explains from a technical perspective that if oil can break above $34 per barrel for a while, then the northwards rally could have some momentum.
Again, at $35 per barrel, many oil and gas companies are cutting their expenditure on energy projects. Royal Dutch Shell for example announced earlier in the month that it had cut its 2016 capital spending to $33 billion, down from its previous projection of $35 billion.
Similarly, reports indicate that US Oklahoma-based Continental Resources also plans to reduce its investment this year by 66 per cent.
Analysts believe that the reduction in capital investment and rig count is not just expected to allow oil and gas companies to save funds to strengthen their balance sheet position, but would also help them to bridge the gap between supply and demand in the coming months.