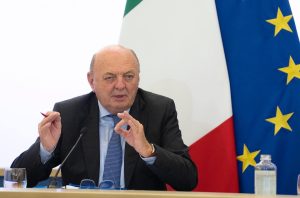 News wire —
Italy's energy minister has ordered a halt to electricity production from fuel oil and the
restriction of coal-fired power generation
to a minimum as the country scales back emergency measures implemented last year to tackle the energy crisis.
Forced by Moscow's invasion of Ukraine in February 2022 to find an alternative for the Russian natural gas it used to import, Italy increased its production of electricity from coal to 7.5% of the total last year, from 4.6% in 2021.
Oil and coal-fired power plants generate much higher carbon dioxide emissions than gas-fired plants, which in turn are more polluting than renewable energy.
Citing gas storage that was 82% full at the end of June and increased renewable production, Minister Gilberto Pichetto Fratin said in a statement the country could speed up decarbonisation "while guaranteeing our country's energy security".
The minister also cited a fall in electricity demand and an increase in hydroelectric power as two developments that allowed Italy to use less coal.
The country, however, expects to remain dependent on coal-fired generation after 2025 on the island of Sardinia, where the development of alternative energy sources is proceeding slowly.
A government document showed the country needs to invest more and step-up efforts to meet a European Union 2030 target for lower carbon emissions.
Follow us on twitter