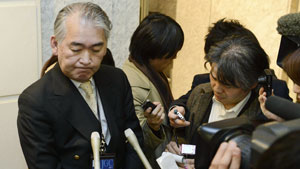 17 January 2013, News wire – The Japanese government has confirmed that several employees from engineering company JGC Corporation had been kidnapped in Algeria.
Reuters cited a statement from JGC which said the company would not comment the number of its employees kidnapped or the location of the incident.
However, Japan's Jiji news agency reported that the Foreign Ministry told a meeting of a ruling bloc task force on the incident on Wednesday night that three Japanese nationals may have been abducted.
Other reports cited unnamed sources within JGC as saying five Japanese nationals had been kidnapped in Algeria.
Japan's Chief Cabinet Secretary Yoshihide Suga called a press conference Wednesday evening confirming that several JGC employees had been kidnapped but declined to comment whether the militant group had made any demand.
Jiji quoted an unnamed senior government official on Thursday as saying that the Japanese government was still yet to receive any demands from the kidnappers.
Militants stormed the In Amenas gas facility in a pre-dawn attack on Wednesday, reportedly taking 41 foreign nationals hostage, including as many as seven Americans and an unknown number of Norwegian, British, Austrian and Irish workers.
The Islamic militants sent a statement to Mauritanian news agency ANI on Wednesday demanding that France halt its military intervention into Mali in exchange for the release of the hostages.
France has sent ground troops into Mali after about a week of air strikes aimed at Islamic militants in that country to prevent them from advancing on the capital of Bamako. The French moves have been supported by Western powers including the US.
ANI reported that the attackers were well armed with their arsenal including mortars and anti-aircraft missiles.
The news agency also quoted the militants as saying that explosives had been rigged around the In Amenas gas facility and that any attempt to free the hostages would lead to a "tragic end".
News agency AFP reported it had spoken to one of the attackers via telephone who claimed the group was al-Qaeda loyalists who had entered Algeria from northern Mali.
"We are members of al-Qaeda and we came from northern Mali," the militant told the news agency.
"We belong to the Khaled Abul Abbas Brigade led by Mokhtar Belmokhtar."
Belmokhtar has previously been linked to Al-Qaeda in the Islamic Maghreb (AQIM), an organisation whose aim is to overthrow the Algerian government and institute an Islamic state.
*Josh Lewis