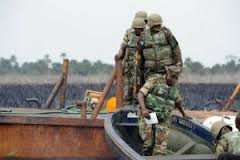 12 May 2013, Yenagoa – The Joint Task Force in the Niger Delta codenamed Operation Pulo Shield, has decried what it described as community shielding of crude oil thieves in the region.
Media Coordinator of the JTF, Lt. Col. Onyema Nwachukwu, who disclosed this in an interview in Yenagoa also lamented what he called the ineptitude of oil company surveillance contractors in the region.
According to the JTF, the active involvement or shielding of participants in the illicit trade by communities encourages the criminality in the region.
The JTF spokesman noted that oil thieves had converted communities in the region to depots where they stored illegally refined crude oil in drums.
He said the practice of storing inflammable stolen products under the protection of the communities had compelled the task force to initiate advocacy programme to sensitize the communities on the inherent dangers of such practice.
"The JTF is faced with a handful of challenges militating against its efforts to combat oil theft in the Niger Delta. In the course of our efforts to eradicate oil theft in the region, it was discovered that several individuals in the communities were actively involved in the illegal business or shielding saboteurs who vandalism pipelines and flow stations for reasons of grievances they hold against some oil companies.
"The situation can best be appreciated when you imagine how some people convert their soak away pits into reservoirs to store stolen crude oil. This awful discovery prompted the JTF to initiate advocacy programme to sensitize the communities"
He said, "most of oil companies have surveillance contractors responsible for monitoring heir network of pipelines in the Niger Delta. It is therefore a major concern that illegal oil theft has continued despite the deployment of these surveillance contractors.
"One reason for their apparent ineptitude is the manner of employment by the oil companies who sub let the employment of surveillance teams to contractors some of whom are not dedicated.
"You will recall that, some surveillance contractors ere arrested trying to vandalize a pipeline at Kporgho in Gokana local government area of Rivers State on November 19, 2012."
He therefore stressed the need for oil companies to review the employment pattern of their surveillance contractors and manner of deployment.
*Samuel Oyadongha