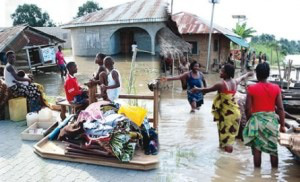 25 October 2014, Yenagoa — The Joint Task Force (JTF) in the Niger Delta region, Operation Pulo Shield, has waded into the conflict between Chevron Oil Company and its host communities over compensation.
It was gathered that the oil company was yet to settle compensation liabilities to its host communities over its 2012 rig blow out in Delta and Bayelsa states.
Mr Mathew Sele-Epri, who represented Chevron host communities, said yesterday that the three parties held talks on Tuesday.
He said Maj.-Gen. Emmanuel Atewe, Commander of JTF, presided over the meeting held at JTF headquarters in Yenagoa, between Chevron and representatives of the affected communities.
It would be recalled that Koluama communities, hosts to Chevron's operations in Southern Ijaw Local Government Area, Bayelsa, had threatened to resume agitations for compensation for the 2012 rig explosion in Chevron's field.
Hundreds of youths from Koluama on September 15, boarded the North Apoi oil platform operated by Chevron over non payment of compensation for the rig blowout and vacated the facility after officials of the oil firm opted for dialogue.
Sele-Epri said parties to the talks resolved to await outcome of a Post Impact Assessment (PIA) study which will form the basis of negotiations for compensation to affected communities.
He said: "The JTF commander appealed that we should suspend our planned protests to agitate for compensation and he advised that we should rather find out the status of the PIA from National Oil Spills Detection and Response Agency (NOSDRA).
"The General appealed to all parties to maintain the peace while the issues are being resolved amicably."
Representatives of Chevron told the gathering that the PIA report is expected to come out in November and be accessible to all the parties by the end of November. The meeting was adjourned to November 21, Sele-Epri said.
He said the communities also commissioned independent impact assessment studies and would compare the reports with the one conducted by the regulators.
"We had earlier agreed that there was damage because the proofs of damage and impact were well documented, and we are awaiting the report to ascertain the level of damage," Sele-Epri added.
Mr Deji Haastrup, Chevron's General Manager in charge of Communications Policy, Government and Public Affairs, said the company remained committed to dialogue in resolving conflicts.
*Chris Eze – Daily Trust