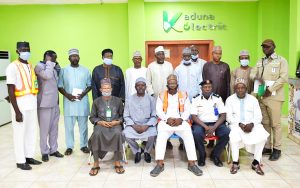 Kaduna — The management of Kaduna Electric has re-iterated its commitment to the safety of lives as well as public and private properties in its area of operations.
The Chief Technical Officer of the company, Engr Bello Musa, stated this Thursday in Kaduna when he received the Executive Secretary, Kaduna State Emergency Management Agency, KADSEMA, Alhaji Abubakar Hassan, in his office.
Engr Musa, who stood in for the Managing Director/CEO of Kaduna Electric, Eng Garba Haruna, stated that "Kaduna Electric attaches serious importance to safety of lives and properties of the people and shall always uphold this as an abiding philosophy."
He called for more synergy and cooperation between the two organisations to guarantee the safe usage of electricity in the state.
He lamented the continued patronage of unprofessional electricity installers by some individuals, which, according to him, exposed some property owners and power supply installations to serious dangers.
He also called on KADSEMA to ensure that the rights of way of the company are observed when granting permission for erection of permanent or temporary structures.
Earlier in his speech, the KADSEMA Executive Secretary, Alhaji Abubakar Hassan, pledged the readiness of the emergency agency to work with Kaduna Electric to ensure safety of lives and properties as well as avert the occurrence of any disaster in Kaduna State.
He called for formation of inter-phase committee between the two organisations for constant engagement and exchange of valuable information that will help in ensuring safety of lives and properties of citizens of the state.