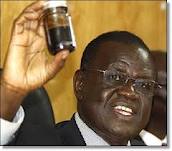 24 September 2012, Sweetcrude, LAGOS – KENYA's Energy Minister, Kiraitu Murungi, is in Nigeria at the head of a delegation seeking Nigeria's assistance in the development of the east African country's nascent oil and gas sector.
The delegation, at the weekend, visited the offices of Nigeria's oil industry watchdog, the Department of Petroleum Resources, DPR, National Petroleum Investment Management Services, NAPIMS, and Nigerian Association of Petroleum Explorationists, NAPE, in Lagos.
Murungi said his country was seeking to learn from Nigeria how to effectively manage its oil resources and the revenues that would accrue there from.
He said: "Kenya has just discovered oil and we are here to learn a good lesson from Nigeria. We are taking a copy of the country's Petroleum Industry Bill so we can use it to modernise our exploration and petroleum act.
"We have to build our capacity and improve our management efficiency to make sure that oil revenues are properly well managed between the multinationals, governments and the host communities".
He maintained that Nigeria, being the biggest oil and gas producer in Africa and fourth in the world, would have a lotto impart on his country.